Swee Lee is Asia's largest music store. It's also one of the oldest, first opening in 1946. The business has since changed hands many times—and in 2012, new management set out to modernize the historic business.
"We modernized the business first by revamping Swee Lee's physical stores and setting up an online store with Shopify Plus," says Laurent Le Graverend, the Group CTO of Swee Lee's parent company, Caldecott Music Group. 
With a booming online store and nine stores across Singapore, Malaysia, Vietnam and Indonesia, Swee Lee is focused on staying connected with its customers however they choose to shop. "While our online business is one of our major sales channels, retail is very important to our business model," says Laurent. 
"Shopify is very convenient because it allows us to run our ecommerce site and nine retail stores from one platform. We have just one inventory database across all our stores and online, which greatly simplifies operations."
Since unifying its ecommerce and retail store inventory, customer database, and sales reporting with Shopify, Swee Lee has enjoyed:
A reliable system of record for ecommerce and store inventory
Real-time inventory tracking across more than 30,000 SKUs 
More effective customer segmentation and re-marketing
The challenge: Managing over 30,000 SKUs across online and retail locations
By the nature of the products they sell, Swee Lee carries over 30,000 SKUs at any given time. "Music customers search for a wide variety of things, from new instruments to replacement parts or tuning equipment. The more inventory we have, the more chances we have of shoppers choosing us," Laurent explains. 
Swee Lee's stock is held in each of its nine retail stores, its Singapore warehouse, and with third-party logistics partners (3PLs) in Kuala Lumpur and Jakarta. While having inventory on-hand at multiple locations comes with fulfillment advantages, stock management can be challenging without the proper systems in place. 
"As a multi-channel business, we needed one reliable system of record for inventory since stock is shared between our online and retail sales channels." 
– Laurent Le Graverend, Group CTO, Caldecott Music Group
To compound the inventory complexity, some items Swee Lee carries—like rare guitars and instruments—are one-of-a-kind. Staff needed to have real-time stock level visibility across each of their stores and warehouses.  "If someone buys an item online that's only carried at one of our stores, our POS system needs to mark the item as reserved and notify staff to put the item aside, get it ready for in-store pickup, and ensure it isn't sold to someone else," Laurent explains. 
Swee Lee needed a commerce platform that enabled them to recognize returning and VIP customers when they shopped online or visited one of their stores. Having a centralized view of its customers would help Swee Lee understand customer buying behaviors, personalize its service, and run more effective retention marketing programs.
With more than 50 retail staff ranging from store associates to more specialized roles like logistics, warehouse and e-commerce specialists, Swee Lee also needed its commerce platform to have robust permissions and features that supported each role's day-to-day responsibilities. 
The Solution: Shopify's multi-channel inventory management
Using multiple store inventory management systems was a point of frustration for both Swee Lee's staff and customers. "When every retail store has its own inventory and your online store has its own inventory, you don't feel like you're working towards the same goal," Laurent explains. 
To solve the host of problems that come from not having a centralized system of record, Swee Lee migrated each of its retail stores to Shopify POS. 
"With Shopify, each of our stores are run using the same tool and share the same inventory and customer database. Our online store and all of our retail outlets across different countries function as one, and our teams can communicate and collaborate more effectively. 
– Laurent Le Graverend, Group CTO, Caldecott Music Group
To ensure a smooth transition, Laurent chose a staggered store migration. "The company migrated one store at a time, starting with the flagship Singapore store. This meant staff could be onboarded and function as ambassadors to coach other staff when we rolled out Shopify POS at their store three to four months later," explains Laurent.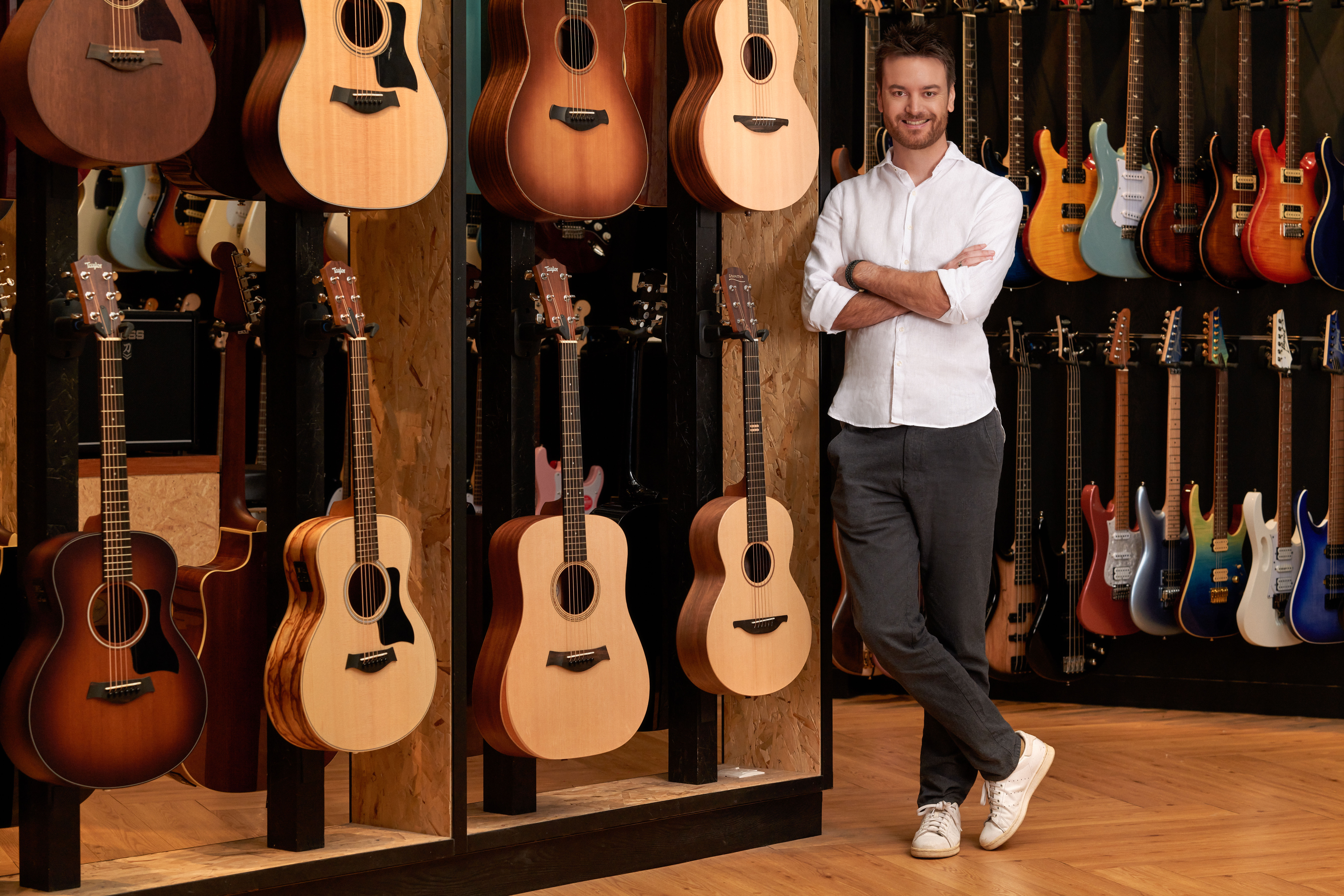 The result: Shopify POS allows a single customer view, online and in real life
Each retail store now has several iPads and iPhones with the Shopify POS app installed. OneiPad kept at the checkout counter, while staff carry the iPhones with them so they can serve customers, check stock availability, and accept payments anywhere in the store. 
"Having a mix of stationary and mobile points of purchase is a bug benefit for our customers and store staff. We can process transactions faster and more accurately than ever." 
– Laurent Le Graverend, Group CTO, Caldecott Music Group
Customer details can even be updated on the fly–and Shopify helps Swee Lee's marketing team create segmented customer lists based on criteria they share. "Knowing if someone is a guitarist or a drummer helps us build different customer segments and personalize the marketing communications we send them," says Laurent.
With Shopify, Swee Lee finally has a platform robust enough to handle the scale of its business across all its sales channels. More importantly, they have a strong foundation which enables them to innovate and evolve as their customers' needs change. "As our customers' needs and expectations change, we can adjust our services and improve our customer experience online and in-person all from Shopify."