Shopify's 2021 Commerce+ brought founders, business leaders, and brand builders together to talk shop and what it's like to be driving the future of commerce. 
From TikTok product discovery and $100 coffees to responding to explosive demand for products (hello, pizza ovens) and supporting sustainable shopping, Commerce+ speakers like music industry icon and Humanrace founder Pharrell Williams, BIGFACE founder and NBA elite athlete Jimmy Butler, and Bombas CMO Kate Huyett, along with Shopify leaders Shimona Mehta, Atlee Clark, and Jon Wexler explored the changing commerce landscape. Read the highlights or watch the show.
We also highlighted some of the latest and upcoming Shopify products and features that are helping brands globally push the boundaries of commerce and consumer experience. Here's a roundup of what we shared.
Table of contents
Connecting and influencing the next wave
A prevailing theme across Commerce+ conversations was how brands are investing in their brand story to really resonate and build relationships with their consumers.
Build your brand story creatively with your storefront
One of the most powerful ways to showcase a brand to the world, share its story, and bring its vision of commerce to life is the storefront. We covered how brands can use Online Store 2.0, Dawn, and Custom Storefronts to bring it to life, their way.
Online Store 2.0 and Dawn
We recently announced Online Store 2.0: new features and improvements to our online store platform that expands its creative customization capabilities, and one of the biggest updates we've made to the platform to date.
These updates make it easier for brands to customize and edit the look and feel of their themes, without needing to touch code or hire a developer to do it.
With the new editor, build with a deeper level of customization for the online store. Brands have the freedom of creating unique templates for different pages, with sections and blocks on every page to drag, drop, and edit content without editing code or needing technical resources to create and maintain it. Brands can also now integrate apps seamlessly into their themes through app blocks and app embeds. This means that from a customer experience perspective, brands can create unique shopping experiences while presenting information more consistently from one page to the next. 
We've also made big updates to make it possible for brands to show specialized product information that's meaningful to them with flexible store content through metafields, which they can define, display, and edit directly in the admin. This means brands can share product information that matters to customers, whether it's product dimensions for an office chair size chart for your clothing brand, or, say, an ingredient list for an at-home pizza kit.
Dawn is our first free Online Store 2.0 theme. It's now available to all merchants to install from the Shopify Theme Store  It also includes rich media, site-wide cross-selling sections and media-optimized product pages designed for conversion. Dawn's adaptable layout and simplified color systems make it easy to set up and get started. There are over 40 Online Store 2.0 themes to choose from in the Shopify Theme Store. 
Learn more about the different ways to upgrade to Online Store 2.0 here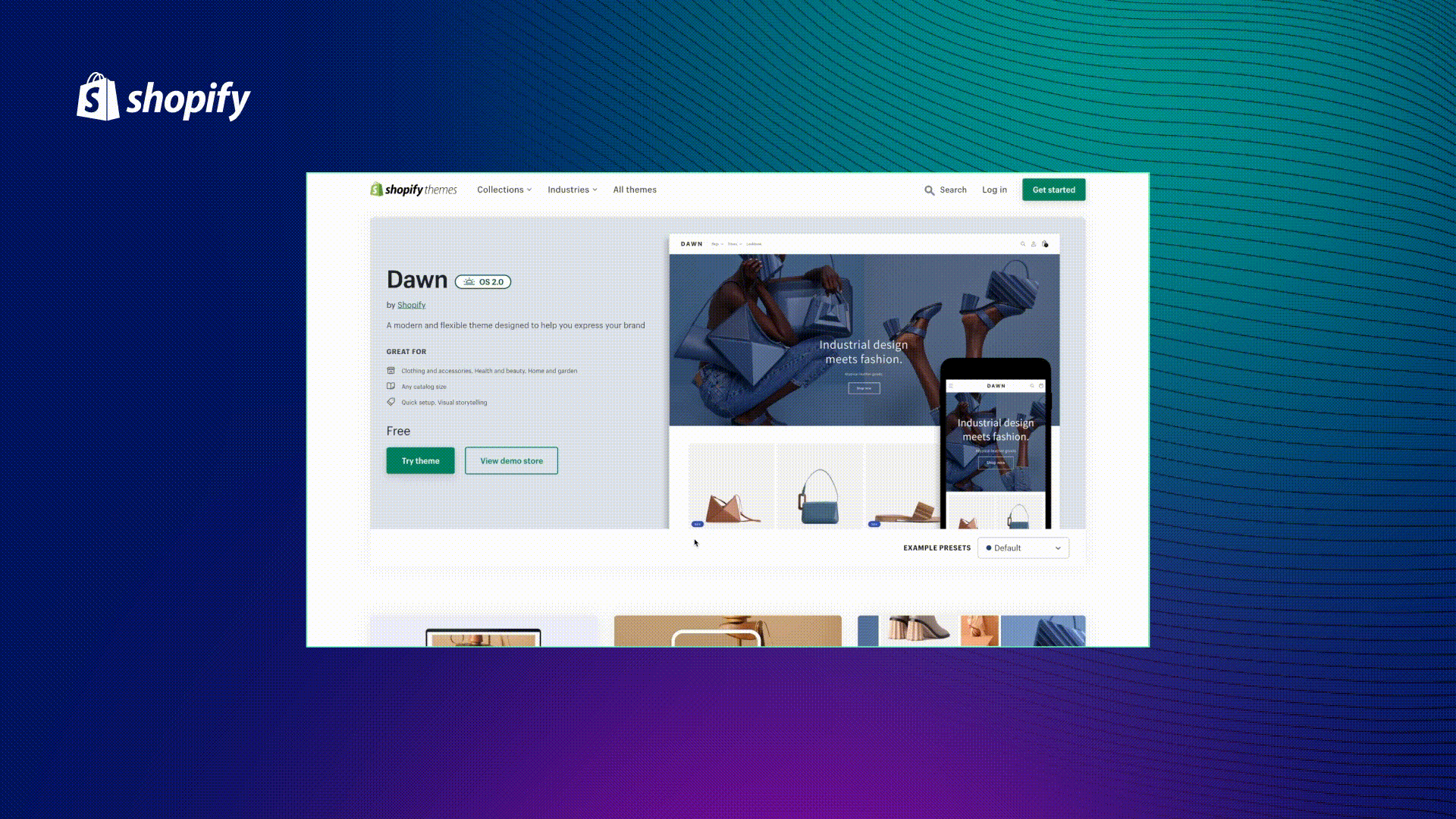 Custom Storefronts
We believe brands should be able to provide exactly the experience they envision for buyers on the front end, and that tech teams should have the flexibility they need when it comes to building and implementation on the back end.
From brands looking for a headless architecture to better facilitate their tech requirements, to those looking to deliver a truly unique buyer experience, Shopify's Custom Storefronts can deliver that. 
Some real-life examples we mentioned during Commerce+:
Allbirds' mobile app lets customers try shoes on virtually with the magic of AR. 
Off-Limits created animated characters to guide the buyer journey right to a gamified checkout to make buying cereal fun
Yolélé created a one of a kind visual product explorer for their delicious products
Zsa created advanced customization to personalize its ergonomic Moonlander keyboard
Custom Storefronts is a set of tools that give developers access to commerce primitives and capabilities through APIs, SDKs, and frameworks, backed by Shopify's platform, for merchants that want more control over every part of the dev experience (this is often referred to as headless commerce, in which, from a tech standpoint, you separate the front end from the back end).
We believe merchants should never have to replatform to achieve their desired tech stack, business logic, or buyer experience, and that's why we provide options for merchants to build across the spectrum of commerce. 
We recently announced two new developer products: Hydrogen (a front-end web development framework and SDK for building Shopify custom storefronts) and Oxygen (which hosts Hydrogen storefronts directly on Shopify). Our investments in Hydrogen and Oxygen mean that developers in every corner of the world can quickly get started building the most expressive, creative storefront experiences while leveraging the expertise and infrastructure that powers Shopify's merchants. 
Reach new audiences by leveraging social commerce and the creator economy
Particularly as customer acquisition costs are skyrocketing, to stand out from the noise, it's critical for brands to get creative with how they're building relationships with their customers and meeting them where they are.
In particular, we've seen explosive growth in social commerce; the ability to sell products and services directly through social media. In tandem, the rise of the creator economy, the social media-savvy creators and curators building businesses and brands through their online audiences. 
TikTok Shopping
The creator economy is where content, community, and social commerce intersect. TikTok, with its 1 billion active global users, is one of the platforms where you can see this in action (and maybe some great dance moves, too). In fact, 25% of TikTok users say that they purchase or research a product after watching a TikTok, and the hashtag  #TikTokMadeMeBuyIt has over 4.6 billion views.
Last year, we launched an integration with TikTok, which lets merchants sync their catalogs and create shoppable video ads within Shopify.
Our latest announcement is TikTok Shopping, which allows brands to create a mini-storefront on TikTok by adding a shopping tab to their profile and integrating their Shopify product catalog. They can then tag and link to products in their organic TikTok, seamlessly bringing commerce to the For You Page. 
On the consumer experience side, this means users can browse a merchant's products inside the TikTok app, read product details and checkout on a merchant's online store from a browser directly inside the TikTok app.
Another benefit for brands and creators is that reaching people with this content isn't dependent on the size of their follower list. In TikTok, content is shared with audiences that are most interested in it. Brands and creators can leverage their already highly engaged followers and reach new audiences to make the most of a product discovery opportunity in an authentic way.
Next normal: Selling across the globe
Grow through international commerce
For many brands that have successfully built a DTC business and loyal relationship with their customers, figuring out how to scale that connection globally comes next.
We know that the last 18 months in particular accelerated ecommerce and digital adoption. According to McKinsey, 10 years was compressed into three months in the U.S. And that trend is consistent "across countries and categories as consumers in most parts of the world keep low out-of-home engagement."
The numbers speak for themselves: Global ecommerce had a record year in 2020: sales grew 25.7% to $4.2 trillion, and increasingly, those sales are happening cross-border. By 2022, it's estimated that upwards of one in four US buyers will have purchased from a merchant in a foreign country.
Shopify Markets
Ecommerce is an industry with global opportunity. And we know firsthand that merchants around the world are looking for an experience that connects them with their customers across the globe. In 2020 alone, our largest merchants generated $20 billion in cross-border sales using our existing tools like international domains and multicurrency. 
We also know that consumers value and trust brands that invest in meaningful experiences for them. We've seen conversion rates for storefronts with localized languages and currencies is up to 1.13x and 1.40x higher, respectively.
But one of the most challenging things for brands about going global is the complexity. Currency conversion, language localization, providing local payment methods, and duty and import taxes can be a barrier to selling internationally. It's also challenging to glean the insights needed to answer big questions like where to launch next, which products resonate in particular markets, which demographics to target, and what local payments look like from one region to the next.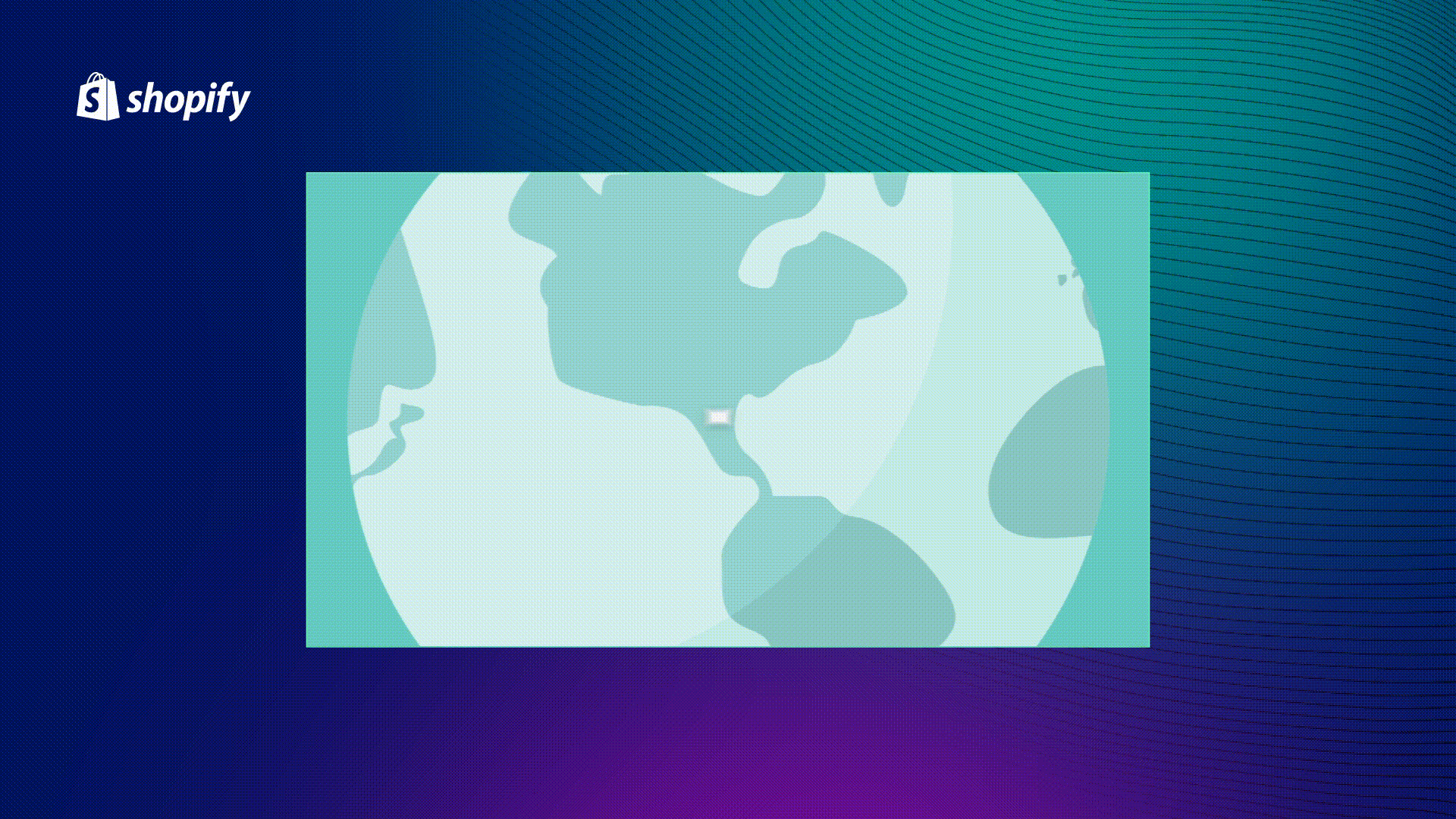 With Shopify Markets, brands will have a centralized hub with all the tools needed to manage global commerce. They'll be equipped to go global by default and build a data-driven international strategy. Some highlights we shared:
Enter new markets easily from a centralized place in the admin, including launching, optimizing, and measuring performance across markets, with the nuances of international selling automatically managed
Create market-specific buying experiences from a single Shopify store, by displaying the right domains, currencies, and languages on their storefront, and displaying the right duties, fees, and payment methods at checkout
Optimize back-office operations from a single place in the Shopify admin, with complete control over what brands sell, how they price, and how they fulfill orders in each market they sell to
Respond to demand and expand into new markets
As digital commerce continues to evolve, we're seeing more and more DTC brands expand into B2B. For some brands that expand into B2B, it's a response to explosive growth and satisfying the retailers that are banging down their door wanting to offer their products to new buyers.
For others, B2B is a proactive recognition of a huge untapped opportunity to enter new markets and seize new distribution opportunities.
B2B
We're making big investments in B2B, addressing the challenges our merchants have experienced selling to their business customers, and opening a huge growth opportunity for more and more merchants to sell both DTC and B2B.
Our new B2B features will launch in the first half of 2022. We're building them directly into our platform, so Plus merchants will be able to manage both their B2B and DTC business. This includes offering personalized pricing and payment terms to each buyer and providing a seamless B2B checkout flow from one centralized admin experience.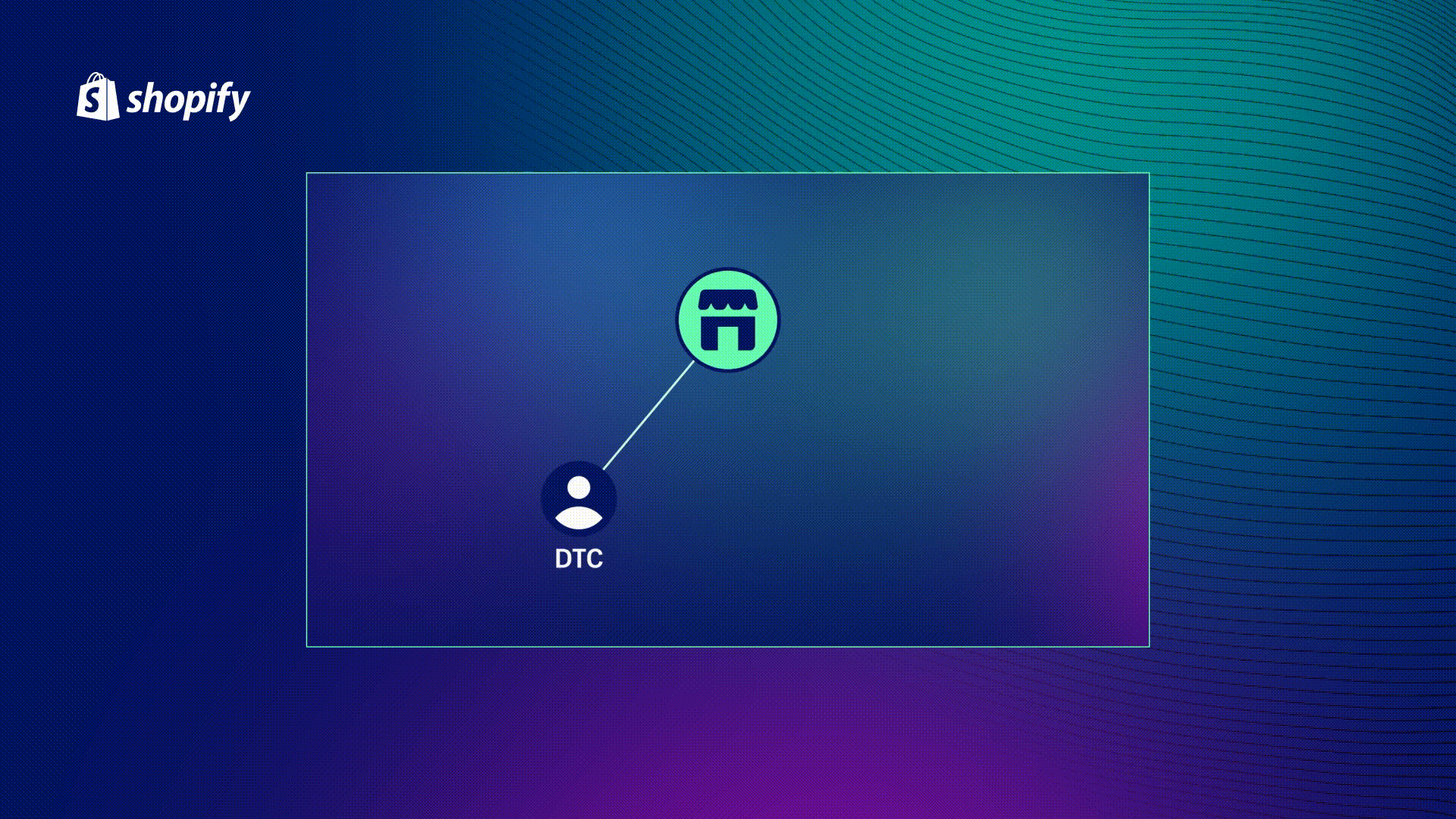 Bold growth: Going beyond what's possible
Unlock value and work smarter with data-driven decision-making
Commerce is smarter when it's powered by data that informs decisions, and when brands have custom solutions built to solve their unique problems and help them save time. 
First up, we dove deeper into data. Namely, the necessity of data and analytics to provide a clear, holistic view of how a brand or business is performing, and insights to inform decisions.
ShopifyQL Notebooks
Exploring business challenges through the lenses of data can sometimes feel overwhelming. Questions that start in one domain can often lead elsewhere. You've likely found yourself digging through multiple parts of your business when diving into an exploration such as: "Why are sales up? One of our products is selling better than usual. Why? Is it my marketing campaign? No. What about my returning customers? Ah, the volume is coming from new customers; what channel are they coming from?"
Notebooks are coming to Shopify in 2022 to unlock data stories. With Notebooks,  merchants will have more flexibility to explore, and visualize datasets from multiple sources in a single interface. 
Think about an actual notebook and how that blank page is an invitation to explore. ShopifyQL Notebooks will work the same way: merchants will be able to sequentially explore a business challenge and build a wide understanding of a problem as they write a data story. Query data directly from their shops, see the results, capture hypotheses, and keep diving with multi-format visualizations, like text, imagery and mark-up, without having to port data into a separate warehouse, or toggle between disparate sources.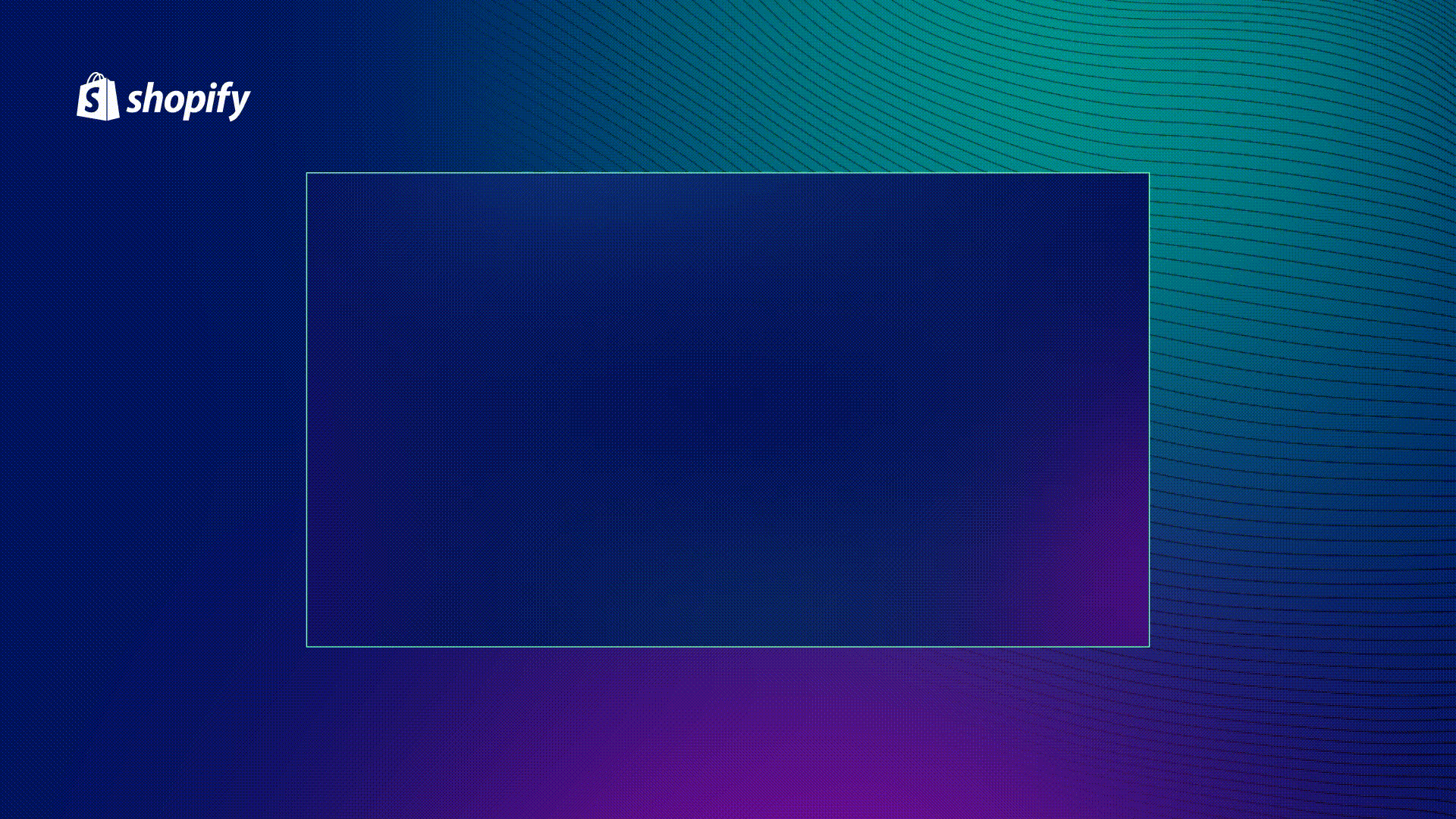 And there's more. Data stories written with Notebooks will be powered by an exclusive data query language developed for commerce: ShopifyQL. Built with commerce usage in mind, ShopifyQL includes specific and smart syntax (BFCM, anyone?) and is filled with powerful business metrics—such as conversion rate and lifetime value—to help merchants get to insights faster and with minimal lift.
ShopifyQL Notebooks is coming in early 2022. Follow the What's New newsletter for updates:
Solve your unique commerce problems and spend more time on strategy
What else comes to mind for brands when they think about smarter commerce?
Maybe it's spending less time on tasks and more time on strategy. Less patchwork and more efficient processes with their store and the apps they use. And less back-end heavy lifting when they want to get creative and specific to elevate the buyer experience.
That's why custom automations are critical. They're purpose-built workflows that help solve a brand's unique commerce problems and help them scale. 
The new Shopify Flow
With Flow, brands can build ecommerce workflows that automate tasks, campaigns and processes within their store. Flow can even act as the glue between a brand's existing apps and business tools to unlock even more automation possibilities, giving brands more time to focus on growing their business.  
We recently made some important improvements to Flow to help power smarter commerce, including:
The ability to access almost any data point in the Admin API: This capability lets brands dive deeper into Shopify data than ever before and dramatically increases the number of use cases that can be powered by Flow. For example, brands can now build workflows off of specific product data within an order.  
More complex workflows made possible: Brands can leverage Flow's advanced condition logic to create more flexible workflow rules and ultimately build more complex automations. The new Flow also lets brands determine the specific order of operations within an automation to provide greater accuracy. 
Simpler navigation, UX, and ecosystem connection: It's now easier and faster to search for triggers, conditions, and actions in Flow; simpler to delete or modify workflows; and easier to view all the third-party apps that connect with Flow. 
And coming soon, we're putting the power of Flow into more Shopify merchants' hands, beyond Plus.