So you've taken the plunge and joined Shopify Plus. Congratulations! And welcome to the world's most robust, scalable, and agile commerce platform for high-growth companies. We're so glad you're here.
You're likely wondering, "Where do I start? How do I make the most out of this new world I've entered, one that will help me streamline and further grow my business?" You're in the right place. Here's a list of things you can do now to get yourself oriented and off to the races.
Table of contents
1. Visit the Shopify Plus Academy
We know that growing a business is a marathon, not a sprint. Consumer behaviors and demands are constantly changing. So how do you stay on top of it all?
With Shopify Plus Academy, you'll access in-depth ecommerce strategies in key business areas. 
At the Academy, you'll find self-guided courses on everything from marketing acquisition strategies to business operations to customizing your checkouts—all taken at your own pace and on your own time.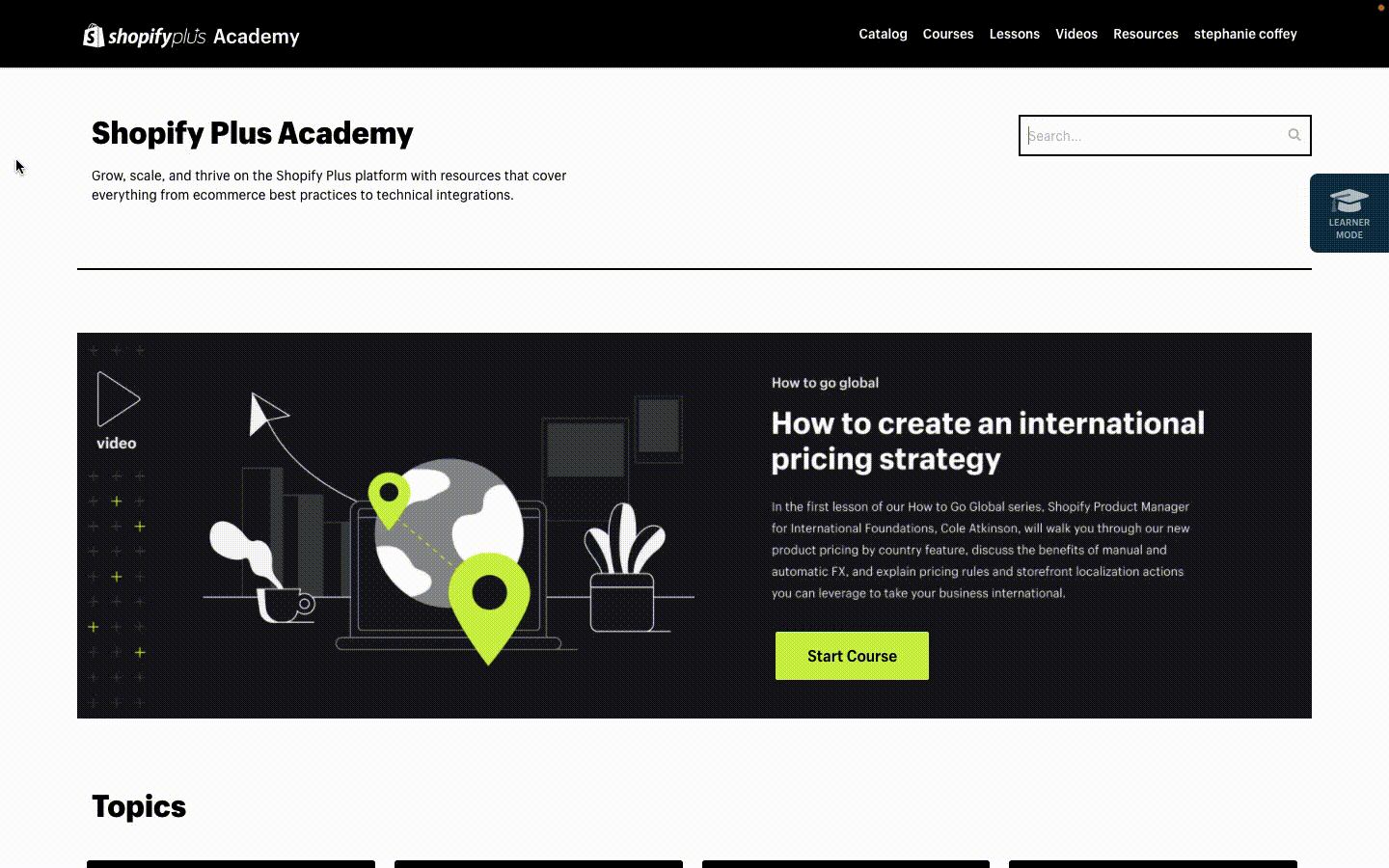 Start with our onboarding course, Getting started on Shopify Plus, which will walk you through all of the key services and features you have available to you on Plus. Or check out how to take your business international with our How to Go Global course.
2. Attend a Welcome Webinar
While you might be familiar with how our admin works and the app partners that plug into your ecosystem, it doesn't hurt to have a good old-fashioned orientation. Enter our Welcome Webinar that covers all the Shopify Plus basics, features, and resources available to businesses when they start with the platform. It's the best way to get your bearings on the new-to-you service and set you on the course for success. During this orientation, Merchant Success Managers will give you a run-down of the support system and guide you on how to get the help you need navigating the platform. 
They'll also give an overview of all the features you get exclusive to Plus. Then, they'll open the floor to a Q&A, so you'll have a chance to ask anything that comes up as you immerse yourself in all things Plus or that you've been wondering about since joining. These are live sessions, offered on a weekly basis, that accommodate multiple time zones. If you can't make it on the scheduled dates, you can watch the recording. 
If you'd like to connect directly with the merchant success team, you can contact Plus Support via the live chat in their admin, or by phone or email. 
3. Sign up for the "New from Shopify Plus" newsletter
You'll want to be kept up to speed on the latest Shopify Plus updates as they happen. Our newsletter, called "New from Shopify Plus" drops in your inbox weekly, with all you need to know about new product feature releases, beta opportunities, and Shopify Plus–related events. 
4. Customize checkout experiences with Shopify Scripts
All the sales-boosting and conversion rate optimization you were doing via multiple apps and workarounds now has a streamlined "set it and forget it" life on Shopify Plus, thanks to Shopify Scripts. 
Here's what this product will let you do: 
To increase average order values over Black Friday Cyber Monday, Brooklinen, for example, set up three discount "thresholds." With Scripts, all of this took place automatically in a user's cart:
Here's how you can start using Shopify Scripts:
Ask your Plus support team to help you clone your existing store to a staging instance (or testing site). With Shopify Plus, you can access multiple store instances at no extra cost.
Install the Script Editor.
Click "Create script" inside your apps. You'll see 15 script templates organized by underline items, shipping rates, and payment gateways. 
These 15 templates represent the most popular and profitable scripts. You can preview each script, edit the code, and apply your changes within your cloned store before copying them to your live store.
Find a full list of terminology, or "methods," on this help page. Script Editor also has its own guide, with several scripts examples you can apply to your site.
Check out Getting Started with Shopify Scripts: A Practical Walkthrough for a breakdown of how to get started. 
If you're working with a Shopify Plus Partner to develop a script, ask for the ability to adjust key variables like discount percentages and target product tags so you can make the changes yourself later.
Here are some more Shopify Scripts resources: 
5. Save time and energy with ecommerce automation
For 16 years, Shopify has been powering ecommerce across the globe, and we've learned a thing or two about helping businesses scale and grow in that time. One of those lessons is how critical it is to help businesses create custom workflows that automate the day-to-day tasks that take up so much time. 
Meet our suite of time-saving automation tools: 
Shopify Flow
Ecommerce automation is an absolute game changer for businesses with their sights set on scaling. Shopify Flow is our industry-leading ecommerce automation solution that can simplify your day-to-day by putting complex, manual tasks on autopilot. Don't spend another minute scanning inventory levels, reviewing fulfillments, kicking off loyalty programs, or reviewing orders for fraud. Quickly create the custom automations that your business needs, so you can focus on the bigger picture.
Flow is based on a simple no-code trigger, condition, and action format. So what does that mean? In its simplest form, a "trigger" is an event that Flow looks out for and which sets an automation in motion, while a "condition" is something that must then be met, and an "action" is the task that is completed when the condition is met. 
Here's what that might look like for a workflow that automatically adds a customer to your loyalty program: 
Trigger: An order is placed.
Condition: If the order is $500 or more.
Action: Tag the customer as a VIP.
Thanks to Flow, you don't have to lift a finger or touch a line of code to make this happen. Additionally, you can leverage our library of pre-built templates to start automating in just three clicks. 
Don't take our word for it: learn how Cozykids leveraged Flow to automate processes, eliminate human error, and dramatically increase efficiency. 
Get even more automation ideas by taking a tour through the 10 most popular Shopify Flow templates.
Now that you've automated your back-end processes, how about making life easier for employees who set up and run your sales promotions? 
Launchpad
Whether you're introducing a new product or planning a flash sale, Launchpad lets you create an event and put it on autopilot. It will produce and deliver reports on the event's activity so you can compare this year's sales to last year's and analyze the strategies that worked best when you plan for next year.
For example, amplified across four stores, Launchpad saves 100% Pure engineer Chris Tran 12 hours per sale or campaign. His time can now be directed toward solving other business challenges or innovating for future solutions. In the future, he'll save hundreds of hours as he applies Launchpad to smaller campaigns and sales, too.
With Launchpad, you can pre-plan everything on your campaign to-do list and instantly roll it all back once the sale or event is over. Learn more about Launchpad by watching this video:
Here are a few more ecommerce automation resources for you to check out: 
Once you've accessed Shopify Plus–exclusive tools, review the platforms you're already using. We'll discuss how to make them work better within your commerce ecosystem next.
6. Power your store with API call increases and enterprise-level integrations
Time to juice up your store's capabilities. Retailers seeing rapid growth—particularly those with a range of stock keeping units (SKUs), multiple online stores, online-to-offline retail locations, expanding supply chains, or international markets—can also seamlessly integrate the third-party platforms already in use to streamline the whole business.
Some of those platforms include:
In each case, Shopify's open API allows you to flexibly customize and connect with the platforms you need most.
Companies like UK organic babywear and newborn essentials retailer MORIleverage Shopify's API to connect its store with its third-party logistics (3PL) to monitor performance in real time. 
With developer support, you can also build your own private apps tailored to your store and your unique challenges.
When women's clothing brand Whimsy Rose built a custom product uploader with Shopify API, it was able to track all customer-created custom styles and prints and manage its more than 2,000 custom SKUs in-store and online. The custom orders were then printed and synced with the brand's fulfillment solution to be delivered within five days.
All brands on Shopify Plus can access exclusive APIs, and can double their API call limit (to your private and public apps) after a review process is complete. Your limit can be increased further on an as-needed basis—just reach out to your Plus support team.
7. Manage users and multiple stores all from your admin 
When you upgrade from Shopify to Shopify Plus, one of the first things you'll notice is the enhanced version of the standard Shopify admin. With it, you can simplify the management of your entire company with the new organizational management tool. This system allows you to manage users, quickly create new stores populated with data, and get a high-level overview of key business metrics across all stores in your organization.
If you operate multiple stores, you can make changes to operations at the organizational level instead of at the individual store level. Users with permissions to make changes to the Shopify organization admin can perform actions across multiple stores in your organization that affect users, stores, and Shopify workflows.
Here are the benefits of each feature: 
Analytics overview: This gives you a centralized view of your business results so you can make sure your business is running as expected. See and compare your live performance and key business metrics across multiple time periods for all stores in your company.
User management: This is a centralized hub to view and manage users across your company. You can trust the right users with the right tasks and manage staff across all stores from a central location. Add, modify, and remove users and allow multiple users to perform these tasks.
Store management: This gives you a centralized view of all of your stores. Experiment with new strategies and create environments with new stores and leveraged data (users and first-party apps) from your existing stores.
8. Sell wholesale and direct from one place 
B2B on Shopify gives you the power to sell to both your wholesale and retail customers from a single platform and even a single store. It is a powerful suite of wholesale features built directly into our platform, with access to all of Shopify's most powerful customization features, like custom themes, discounts, Functions, and APIs. 
Shopify's B2B offering makes it easier for merchants to sell to more customers without expensive third-party solutions or complex workarounds. You'll be able to use the same simple, intuitive experience to set up and manage your B2B and DTC stores. Anyone on your team can use it—no coding experience required. 
You can choose to manage your wholesale business from a single online store for both your direct and wholesale buyers, or a dedicated expansion store customized specifically for your B2B business. Either way, you'll be able to scale your wholesale process and reach more customers with customizable company profiles, price lists, payment terms, B2B checkout, and customer accounts. 
9. Find your next best customer with Shopify Audiences Finding new customers with digital ads has become harder and more expensive for businesses. That's why we built Shopify Audiences.
Shopify Audiences enables you to find new customers by delivering high-intent audiences for your digital ads. Create and export custom audiences to ad platforms and get accurate reporting that only Shopify can provide. 
Find new high-intent buyers
Opt in to an exclusive audience network and unlock access to custom audiences that consist of new buyers with high purchase intent. Shopify Audiences leverages Shopify's unique view on buyer intent and a proprietary machine-learning algorithm to identify new high-intent buyers. 
Lower advertising costs
Reach new buyers who are more likely to be interested in your products so you can lower paid acquisition costs. Create audiences simply by selecting products you want to sell and the algorithm will find interested buyers. Then export the audiences directly to your ad account and activate them in your ad campaigns.
Get accurate measurement
Track and evaluate audience performance confidently with reporting that accurately measures conversion data. Shopify Audiences accurately measures performance by matching the buyers from your activated audiences with the customers who bought from your store while your ad campaigns are running.
Join Shopify Plus brands like Hiya, which saw a 158% higher conversion rate and 35% lower cost per acquisition with Shopify Audiences!
10. Grow your business with unrivaled support 
Look, you've come this far—building a fast-growing business drawing in hundreds of thousands (or even millions) in monthly sales is overwhelming and exhausting, but it's also something that should make you massively proud. The Shopify Plus team is here for you in those exhausting moments, when you need guidance and support in running the systems that power your business. 
Our merchant success program gives you access to the right products, platforms, and training to help you define a clear roadmap for success. We also offer 24/7 priority support. 
Whether you're trying to plot a flash sale, figure out some technical mechanism on the platform, or plan for the future, Shopify Plus' support teams work tirelessly to help you make the most of your opportunities. They can also provide you with exclusive access to new features we're just trying out. 
You can also ask for assistance with third-party integrations, and help to find approved Shopify Plus Partners to work on design and development projects specific to your business. These businesses are carefully curated, selected only for creating some of the best integrations with Shopify.
Check out our Community Group or our Partners Directory to find peer support and potential partners. 
It's a journey
You're going to keep learning as you grow your business and in your relationship with Shopify Plus. Here are more resources to maximize your new commerce platform capabilities:
Not on Shopify Plus yet?
A reminder about why this move is so advantageous to your business: 
Shopify Plus gives you:
Lower transaction costs—and with flat rates on Shopify Plus, many brands see huge savings. When sales volumes go up, savings increase. 
An additional reduction in credit card rates for brands that use Shopify Payments.
The ability to easily add a VIP channel, or a store for your staff or your sales reps. There are lots of ways to set up your shop so specific customers can see a tailored product list or get preferential pricing.
Expert help in addressing pain points and driving growth.
The fastest web loading times out there by speeding up communication between Shopify and any other apps or software you're using.