So you've taken the plunge and joined Shopify Plus. Congratulations! And welcome to the world's most robust, scalable, and agile commerce platform for high-growth companies. 
You're likely wondering, "Where do I start? How do I make the most out of this new world I've entered, one that will help me streamline and further grow my business?" You're in the right place. Here's a list of things you can do now to get yourself oriented and off to the races.
Table of contents
1. Visit the Shopify Plus Academy
We know that growing a business is a marathon, not a sprint. Consumer behaviors and demands are constantly changing. So how do you stay on top of it all?
With Shopify Plus Academy, you'll gain access to in-depth ecommerce strategies in key business areas. At the Academy, you'll find self-guided courses on everything from marketing acquisition strategies to business operations to customizing your checkouts—all taken at your own pace and on your own time. 
Start with our onboarding course, "Getting started on Shopify Plus", which will walk you through all of the key services and features available to you on Plus. Alternatively, you can explore how to take your business international with our "How to Go Global" course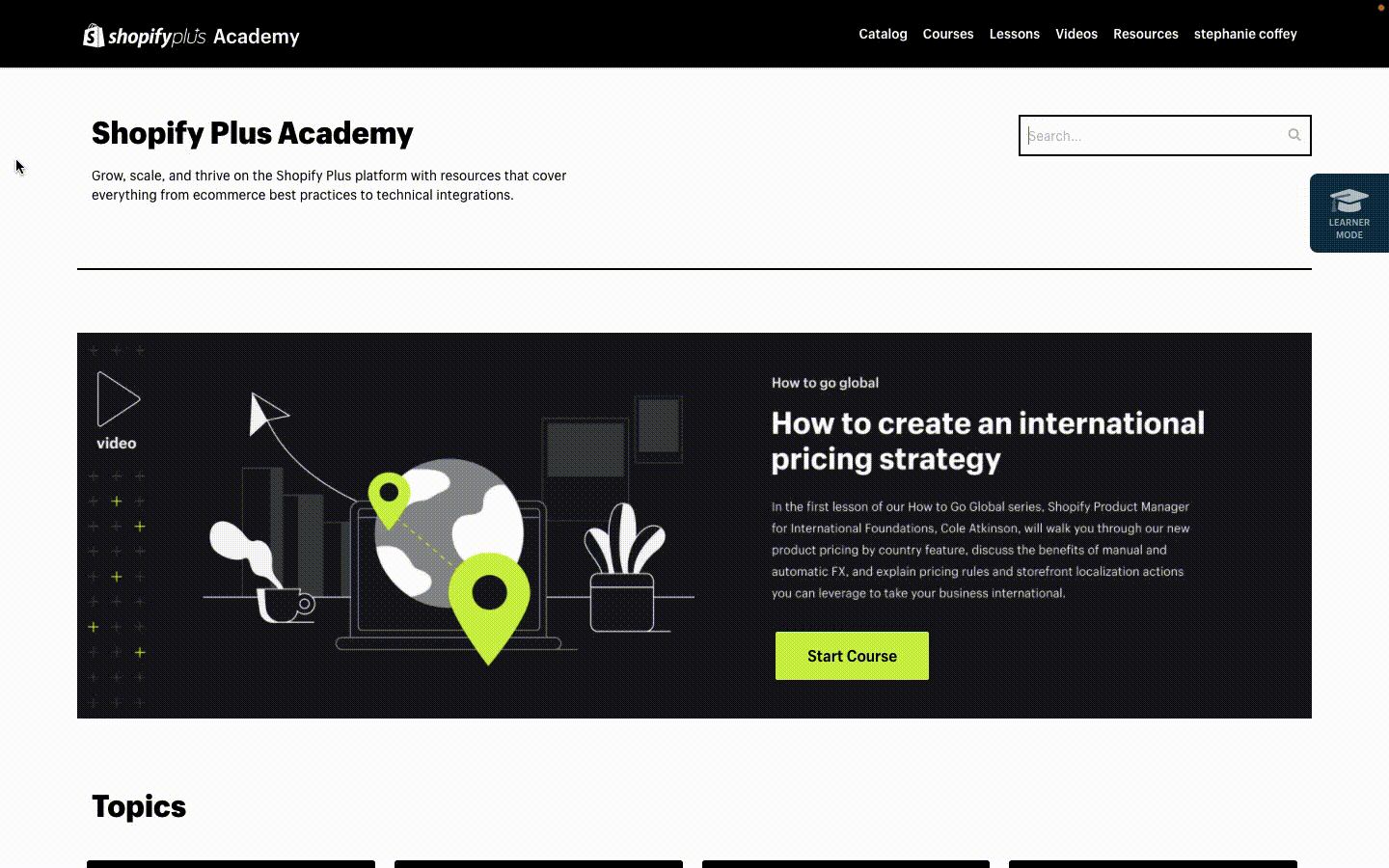 2. Customize your checkout with Checkout Extensibility
Whether you're looking to boost conversion for certain customer segments, increase average order value, build loyalty, or comply with local regulations, it's easy to customize your checkout with Checkout Extensibility—available exclusively to brands on Shopify Plus. If you need assistance setting up your checkout, you can access 24/7 priority technical support directly from your Shopify Plus admin. 
With Checkout Extensibility, you can easily personalize your checkout without touching a line of code. You can also create advanced customizations using UI extensions, Shopify Functions, and the checkout branding API. Additionally, you have the ability to enhance the customer experience by offering unique incentives, such as free gifts and rewards, or implementing customized logic like special discounts and flexible shipping options.
Want to boost average order values or increase customer lifetime value? Install post-purchase apps like ReConvert or loyalty apps like Yotpo to engage customers throughout their journey. Monitor shopper behavior with Shopify pixels, optimizing your checkout for even better results. 
Here are some great resources on how to customize and edit your checkout on Shopify Plus:
3. Grow and run your B2B and DTC business from one place
B2B on Shopify Plus empowers you to sell to both your wholesale and retail customers seamlessly from a single platform or even a single store. It offers a flexible suite of wholesale features that are integrated directly into our platform, providing you with access to Shopify's most powerful tools, such as themes, discounts, Functions, and APIs. 
With Shopify's premier wholesale offering, you can customize the B2B buying experience without expensive third-party solutions or complex workarounds. You can effortlessly set up and manage B2B and DTC stores using the same simple and intuitive platform, without writing a line of code. 
You have the option to manage your wholesale business from a single blended store for both your direct and wholesale buyers, or create a dedicated expansion store tailored specifically for your B2B operations. In either case, you'll have the ability to scale your business and expand your customer base with features like customer-specific pricing, catalogs, payment terms, easy reordering, and a self-serve customer portal.
4. Find your best customers with Shopify Audiences
Finding new customers with digital ads has become harder and more expensive for brands, and Shopify is here to help. Get your ads in front of the right buyers with Shopify Audiences, a powerful marketing tool exclusively available on Shopify Plus.
Here's how Shopify Audiences can help you reach the right buyers:
Drive better ad performance: Reach relevant buyers and reduce ad costs with custom audience lists powered by Shopify's unique commerce insights. Leveraging ever-improving algorithms, Shopify Audiences generates the right audience for your store, based on millions of purchase intent signals.
Scale your digital ad strategy: Grow your campaigns across marketing channels and objectives with audiences that help you drive performance at scale. Shopify Audiences provides a range of audiences for every stage of the marketing funnel that you can leverage on Facebook, Instagram, Google, and more. 
Get accurate measurement: Measure audience performance with accurate conversion attribution—from the same place you run your business. Optimize and scale your ads with reliable performance data that helps you make better decisions.
Shopify Plus brands across industries have improved ad performance with Shopify Audiences. Read our merchant stories to learn more.
5. Unlock productivity with Launchpad's ecommerce automations
Whether you're planning a flash sale or launching a new product, Launchpad allows you to create events, automate them, and gain insights from their performance. For example, beauty and cosmetics retailer Pure used Launchpad to automate its sales and events, resulting in time savings of 12 hours per deployment. That time can now be redirected towards addressing other business challenges or innovating for the future. 
With Launchpad, you can proactively plan every task on your campaign to-do list and effortlessly revert everything back once the sale or event concludes. 
For more resources on ecommerce automation, check out the Launchpad manual and our ecommerce automation checklist. 
6. Power your store with API call increases and enterprise-level integrations 
It's time to enhance your store's capabilities. Retailers seeing rapid growth—particularly those with a wide range of stock keeping units (SKUs), multiple online stores, online-to-offline retail locations, expanding supply chains, or international markets—can seamlessly integrate third-party platforms they already use with Shopify to streamline the whole business.
Some of those platforms include:
In each case, Shopify's open API allows you to customize and connect with the platforms that are essential to your operations. For example, UK-based organic babywear retailer MORI used Shopify's API to connect its store with its third-party logistics (3PL) provider to monitor performance in real time. Whimsy Rose built a custom product uploader to track all customer-created styles and prints, efficiently managing its inventory catalog of more than 2,000 custom SKUs. With developer support, you can even build your own private apps to help solve your store's unique challenges.
All brands on Shopify Plus can access exclusive APIs and can double their API call limit for both private and public apps after completing a review process. Your limit can be further increased as needed by reaching out to your Plus support team.
7. Manage users and multiple stores all from your admin  
When you join Shopify Plus, one of the first things you'll notice is your Shopify organization admin. It serves as an organizational management tool that helps you manage users, create new stores, and get a high-level overview of key business metrics across all the stores in your organization.
If you operate multiple stores, Shopify's organization admin allows you to make changes that impact the entire organization, rather than just individual stores. Users with permissions in the Shopify organization admin can perform actions across multiple stores that affect users, stores, and Shopify workflows across your organization.
Here are a few standout features in your Shopify organization admin to take advantage of: 
Analytics overview: This gives you a centralized view of your entire organization's performance so you can make sure your business is running as expected. See and compare your live performance and key business metrics across multiple time periods for all stores in your company.
User management: This is a centralized hub to view and manage users across your company. You can entrust the right users with the right tasks and manage staff across all stores from a central location. 
Store management: This gives you a centralized view of all of your stores. Experiment with new strategies and create environments with new stores and leveraged data—like users and first-party apps—from your existing stores and easily navigate between stores.
Pay one bill for all your stores with Organization billing: With Organization level billing in Shopify Plus, you have one bill to pay that consolidates all charges and fees associated with the stores listed in your organization. This means you only have to add and manage one payment, making it faster and easier to track and pay your Shopify invoices. 
To see these features in action, check out the launch blog. 
8. Grow your business with unrivalled 24/7 priority support
Building a high-growth business can be overwhelming and exhausting, but the Shopify Plus support team is here for you around the clock to help you get the most out of the systems powering your business. Whether you need help planning a flash sale, resolving technical issues on the platform, or preparing for the future, their expertise is at your disposal.  
Moreover, the support team can provide you with exclusive early access to features that aren't available to the public yet. You can also ask for assistance with third-party integrations or help finding approved Shopify Plus Partners to work on design and development projects. All Shopify Plus Partners are carefully curated and specialize in solutions for high-growth businesses.
To further expand your support network, you can also explore Shopify Community or refer to our Partners Directory. These resources offer opportunities to find peer support and potential partners who can contribute to your business' success. 
It's a journey
As your business evolves, your commerce platform needs to adapt accordingly. Thankfully, Shopify Plus is flexible, scalable, and has been stress-tested by some of the world's biggest brands. Here are few additional ways to get the most out of Shopify Plus: 
Multichannel commerce: Sell your products everywhere your customers like to shop
Internationalization and localization: Host up to nine expansion stores to cater to international customers and customize the shopping experience based on different regions.
Beta programs: Take part in beta programs to gain early access to new features and have the opportunity to provide feedback that influences the product's roadmap.
Avalara AvaTax: Access Avalara AvaTax to ensure seamless tax compliance, allowing you to focus on growing your business without concerns about tax calculations.
Gift Card API and Gift Card Adjustment API: Make it easier for customers to give and redeem gift cards with the help of the Gift Card API and Gift Card Adjustment API.
User API: Efficiently manage multiple user accounts through the User API, simplifying the process of granting access and permissions to different team members.
By leveraging these features and functionalities, you can fully optimize Shopify Plus to meet your business's evolving needs and drive continued growth.
Not on Shopify Plus yet?
Shopify Plus helps growth-focused brands like yours generate more revenue by reaching more customers, increasing checkout conversions, and accelerating scalability. 
With Shopify Plus, you get access to exclusive benefits that give your business an edge: 
Lower transaction costs: Enjoy lower transaction fees, and with flat rates on Shopify Plus, many brands experience substantial savings. As sales volume increases, so do the savings.
Additional credit card rate reduction: Brands using Shopify Payments receive an extra reduction in credit card rates, enabling further savings.
9 free expansion stores: Expand your reach with nine complimentary expansion stores, complete with localization options such as different languages, content, and currencies.
Expert support to address challenges and drive growth: Receive guidance from experts who can help you overcome hurdles and achieve growth objectives.
Lightning-fast web loading times: Benefit from the fastest web loading speeds, accompanied by API call limits that are up to 500% higher than standard plans.