Black Friday Cyber Monday (BFCM) is almost here, and it's time to start monitoring, tracking, and analyzing your performance as you crush your goals this season. Measuring performance allows you to get a clear picture of how you fared compared to last year and helps you successfully plan for next year too.
💡 TIP: Use Shopify's built-in reporting and analytics help you make better decisions, faster. Choose from over 60 pre-built dashboards and reports or customize your own to spot trends, capitalize on opportunities, and supercharge your decision-making.
Monitor performance in real time with Live View
What better way to optimize your marketing campaigns and operations than to track your store's performance in real time? With the latest in Live View from Shopify Analytics, you can do just that and more. You'll also be empowered to make better, more proactive business decisions. How? Live View offers a visual of your customers' behavior throughout their checkout process. The best part is, you can access this invaluable data from any device, anywhere, in your store's local time.
Uncover critical big-picture insights around visitors, sales, checkout, key metrics, and traffic. See how many visitors are on your site at any given time and where they're located. Then, watch them turn into customers and celebrate sales as they happen. You can even keep a pulse on your purchase funnel as visitors add items to their carts, engage in the checkout process, and successfully complete their purchases. Plus, monitor daily total visits, pageviews, orders, and sales across channels. And you'll be able to see your top-performing products, and highest-grossing geographies.
Especially useful during high traffic periods like Black Friday Cyber Monday, Live View allows you to see the immediate results of recent marketing efforts and special promotions. See what's working and what's not, and pivot in real time to maximize performance.
Filter reports with pre-built date ranges
When it comes to reporting, nothing is more tedious or frustrating than having to manually switch back and forth between different date ranges to compare performance. That's why we created pre-selected date ranges for Black Friday Cyber Monday periods within Shopify Analytics reporting. This allows you to quickly compare key metrics with previous periods, benchmark performance, and map out your next move with confidence.
Analyze customer cohorts post sales season
Get a clear view of your customer acquisition and retention rates during Black Friday Cyber Monday with customer cohort analysis reports from Shopify Analytics. Use the data to uncover your most valuable customers (those that have made repeat purchases) and make decisions about when to reengage them with new offers. Plus, you can analyze variations in retention rate for different customer cohorts and compare them with previous holiday sales periods to make decisions for next year. You can even drill down into each cohort to see your customers' average spend during the big holiday sales weekend.
Remember, nurturing customer relationships that already exist is always easier and more cost-effective than finding new ones. These efforts are also likely to improve customer loyalty and increase both lifetime value and Average Order Value (AOV)—it's a win-win.
The Customer Cohort Analysis includes a cohort analysis table, a retention rate chart, and a drill down into metrics. The cohort analysis table displays data about repeat purchases by customers based on when they made their first purchase.
The retention rate chart displays the retention rate of all first-time customers. Here, you can display a comparison to a previous period, previous year, or between cohorts.
Perhaps the most useful piece of this puzzle is the ability to drill down into key metrics like:
Total new customers that make up the cohort
Total amount spent by the cohort up to the current date
Average order value for the cohort
The average total amount spent by each customer in the cohort
The top geographic locations of customers in this cohort
Also available as part of customer cohort reporting is the Predicted Spend Tier report which shows you the predicted value of each customer in any given cohort. Use this report to target customers that comprise the highest value cohorts, with information such as customer name, predicted spend tier, email subscription status and other actionable data about their spend behavior.
Intrigued? You should be! This is powerful analytics, especially when it comes to special events like Black Friday Cyber Monday.
Bonus: Analyze cross-domain performance with ShopifyQL Notebooks
Last year, we shared a sneak peek into ShopifyQL Notebooks—the ultimate in efficient cross-domain commerce reporting. Now available to Shopify Plus merchants, ShopifyQL Notebooks allows you to bring together data on orders and products, and sales to produce a holistic view of your store's performance, using a query language that understands commerce.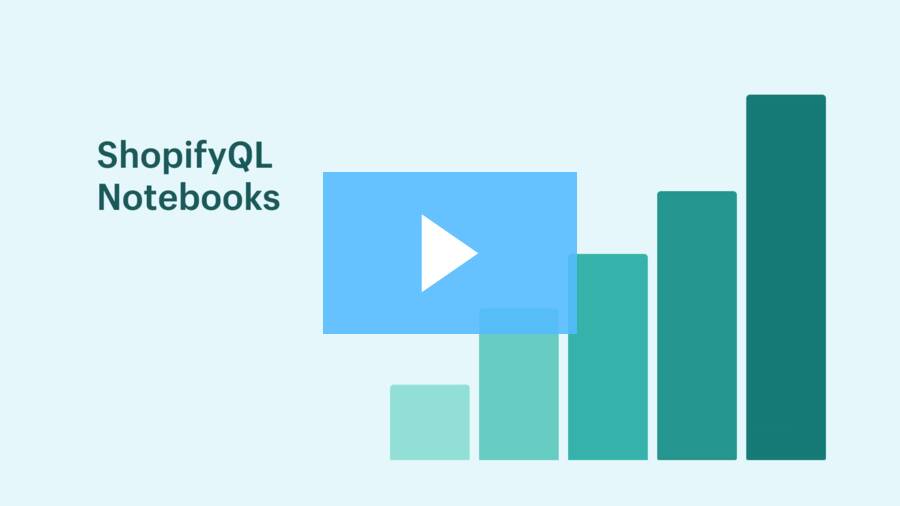 Learn more about how ShopifyQL Notebooks can revolutionize the way you do reporting and analytics. ShopifyQL Notebooks is currently available on the Shopify Plus plan.