Free photography and business insights
Sell bath bombs online
Why sell bath bombs?
Bath bombs add a unique experience to any bath with their variations of color and soothing ingredients that dissolve when placed in water. Whether you're looking to sell bath bombs for a relaxing soak or to add some color to a warm bath, they're a fun addition that come in many shapes, sizes, colors, and scents. You can also find varieties made with flower petals and essential oils, a popular choice among both kids and adults.
In 2017, leading manufacturer Lush reported that they sold 21 million bath bombs, an increase of 71% since 2015. With the rise of viral self-care posts on social media like Lush's #bathart hashtag, there's no denying that these products, which retail for $4-10 USD each, are a huge industry with lots of opportunity.
If you're looking to sell bath bombs, you don't need massive factories like big brands to compete in this market. Bath bombs can be easily handmade and are relatively inexpensive to make, which means anyone with the right resources can profit from the craze. There are many options for entrepreneurs to tap into the bath bomb industry and a good place to start is by making small batches to sell online and exploring manufacturer or dropshipping options for when the business begins to grow. To cut down on overhead expenses, create an online-first business instead of running a stall or storefront where you don't need to invest a lot at once.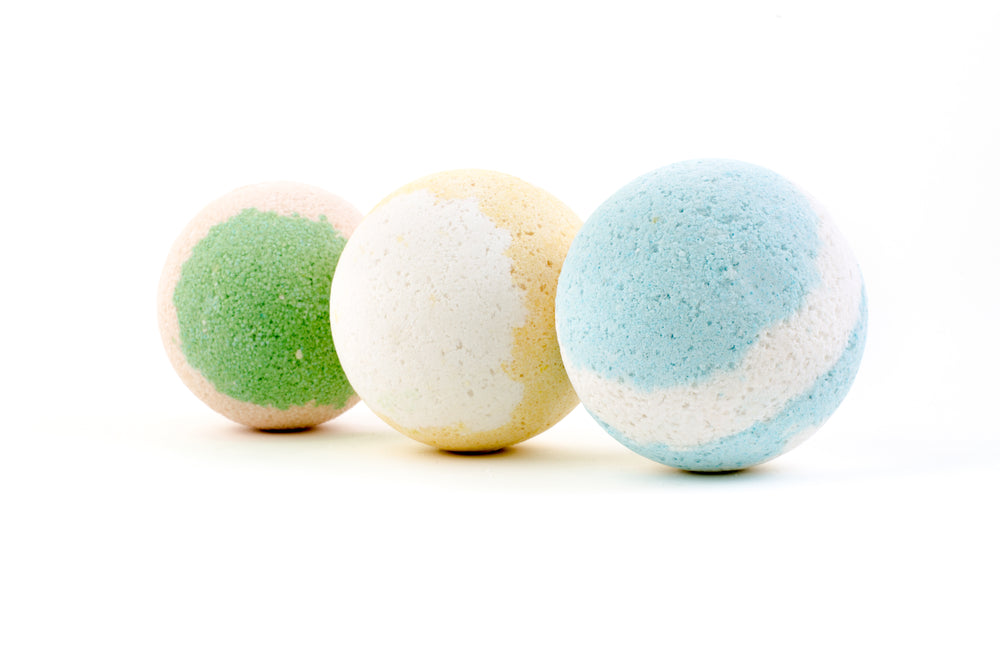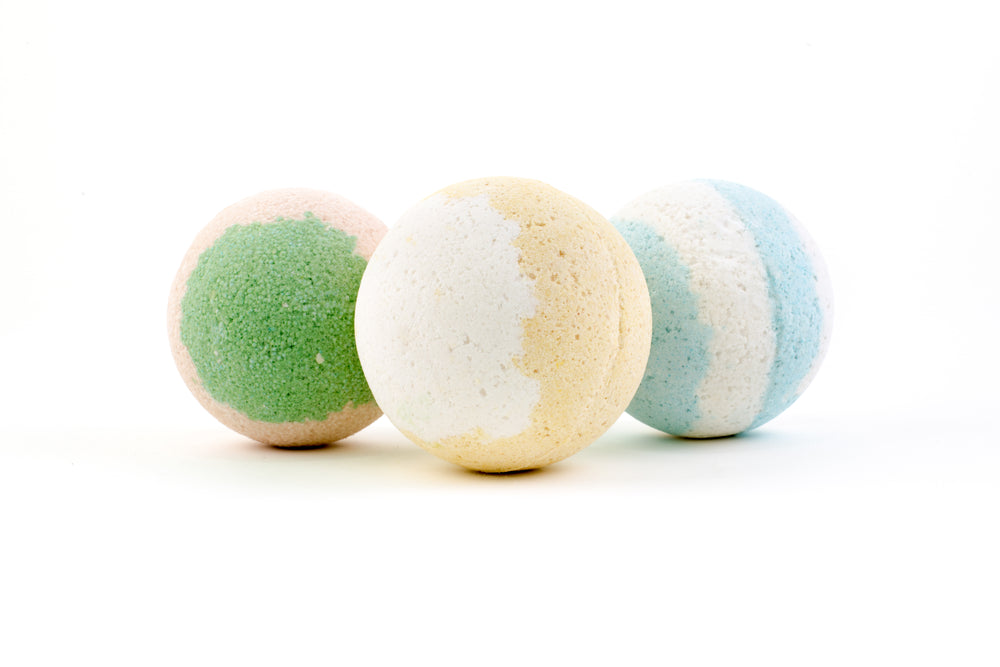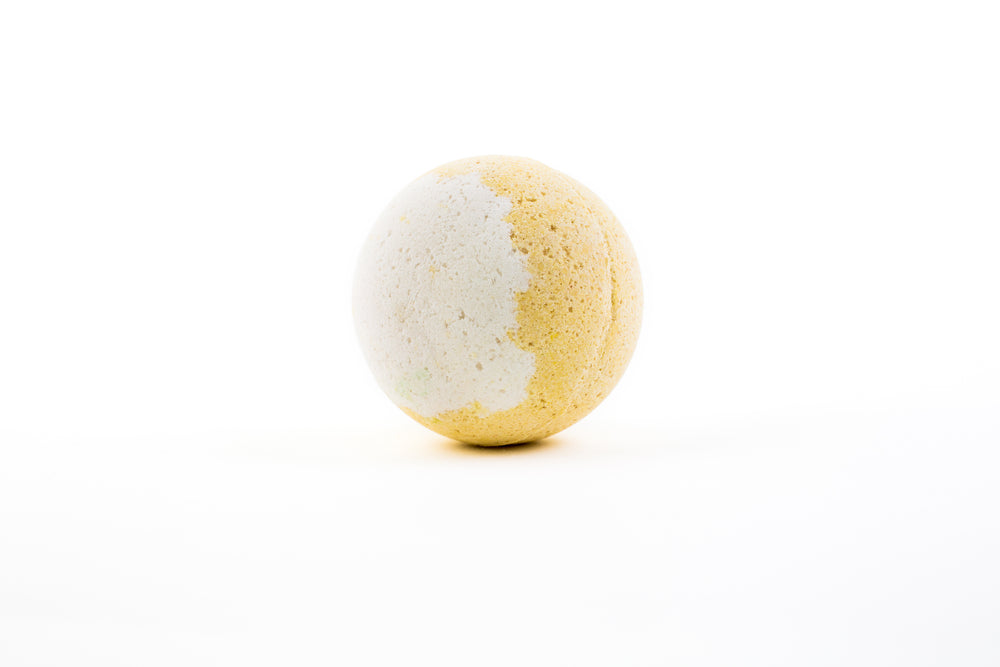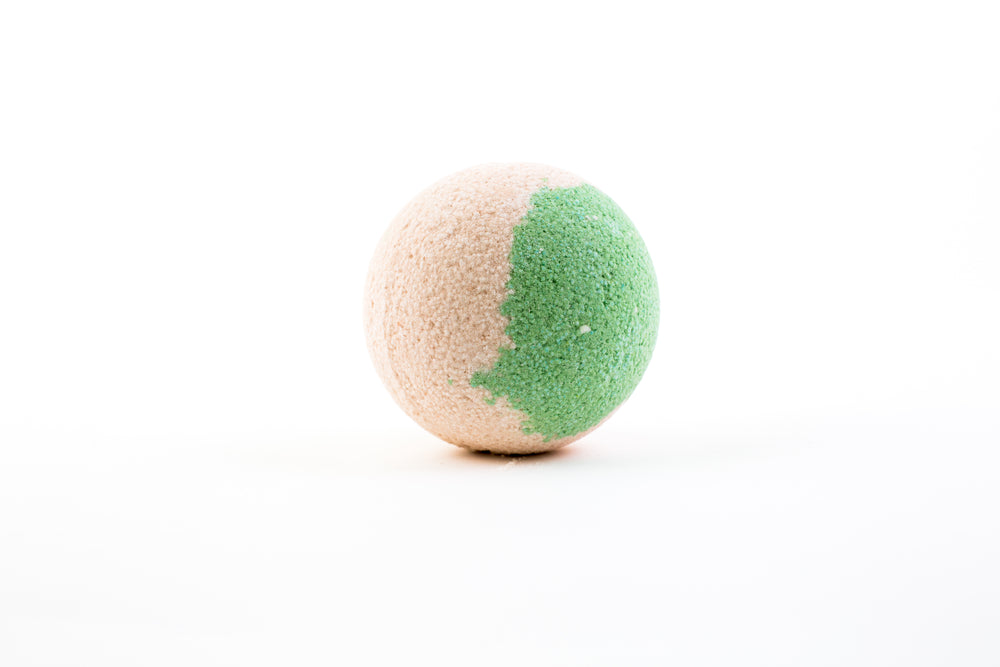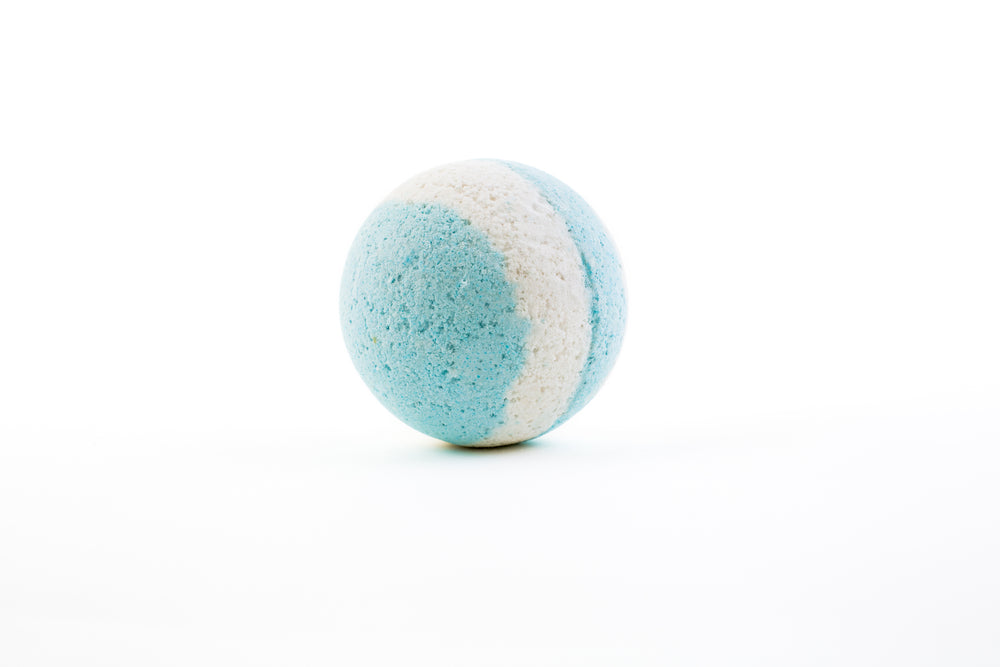 How to make bath bombs to sell
Bath bombs are an incredibly simple product to create from scratch, a perfect fit for aspiring entrepreneurs or anyone looking to tap into the self-care space. Sourcing ingredients is a simple task that requires a low initial investment, with their market high price point providing great profit margins.
To make your first batch of bath bombs to sell, you'll need:
8 ounces of baking soda
4 ounces of citric acid
2 ounces of cornstarch
4 ounces of mineral salts
2 tablespoons of essential or fragrance oil
2.5 tablespoons of light vegetable oil (like Sweet Almond oil or Olive oil)
1 to 2 drops of food coloring
Molds to shape the bath bombs — you can buy these at a craft store or online
You can make bath bombs in five easy steps:
Place the dry ingredients in a bowl and then whisk them together. By the time you finish, the mixture should be relatively smooth.
Then, put all of the wet ingredients in a jar and shake it.
Slowly add the wet ingredients to the dry ingredients. Use your whisk when you add the wet ingredients into the bowl. Slow down if the mixture starts to foam.
Pack the mixture into the molds immediately. You need to act quickly once everything is mixed together.
Leave the mixture in the molds for a few seconds to several minutes, and take them out. Now your bath bombs are ready to go.
If you want variety in the bath bombs you sell online, you can change the color of the bath bombs by changing up your food coloring. If you're feeling creative, there are lots of helpful tutorials on YouTube and craft blogs that demonstrate how to make trendy designs or novel patterns. You can also try different types of molds if you want to include some fun shapes, which are especially popular among kids. Adding elements of aromatherapy is also a great option to consider, since many consumers will pay extra for bath bombs that have unique or therapeutic scents.


How to start a bath bomb business
Whether it's your first time selling bath bombs or taking your store online, there's no denying that it can all feel like a daunting task. To get your business off the ground and moving in the right direction, you'll want to learn from other entrepreneurs to identify all the necessary steps.
Get started building your business by following these 4 steps:
Choose a business name for your new website. Before launching a bath bomb store, you'll need a business name that makes your product memorable. Check out Shopify's business name generator for help naming your brand. Once you have your brand name, get started building out your online store.
Test your product. There's no better way to learn about your product than receiving feedback from potential customers. Do this by taking small-batch pre-orders and requesting feedback from friends or family, or by selling your products at a local market to observe how others engage with your brand.
Plan ahead by writing a business plan. Start outlining all tasks, deadlines, and ideas required to take your business off the ground and stay on track of goals. Even if things change that affect your business from launching, a business plan is useful for highlighting your next steps and keeping track of progress.
Determine your finances. Even though selling bath bombs is very cost effective, it's still important to create some structure for your finances. This helps you plan for all costs associated with running your business on a monthly or annual basis, and should include the cost of ingredients and any other expenses that relate to keeping your business running.


How to sell bath bombs online
There is more to running a successful business than creating your own products. If you've done the work to set up your business plan thus far, you'll want to focus on building your brand next. Whether you're looking to create a logo for your business or need help choosing a website domain to start selling online, here are five things you'll want to cross off your list:
Create a logo for your brand Make your business stand out with a unique logo that fully encompasses your brand. Don't have one? Create one for free with Hatchful in seconds.
Start your online store If you haven't already secured a website for your store, take a few minutes to reserve a domain that reflects your brand name. Try Shopify's free domain name generator to secure your website and get started building out your online store.
Customize your website As you build out your store, make sure to choose a website theme that compliments your products and the branding you've created. Add free images to your website from our bath bomb collection to save money and time capturing your own content.
Start marketing your business Once you have your online store set up, it's time to promote your store. Launch your brand on social media to start growing your community and build brand awareness. Explore all the latest marketing tips to start promoting your business on the Shopify blog.


How to wholesale bath bombs
Want to sell bath bombs without lifting a finger? You can get started in no time by partnering with a wholesaler like Handshake or simply do some online research to find local manufacturers who will sell you bath bombs in bulk. As a starting point, you can check out websites such as Faire or The Soap Guy to get a sense of the types of products and prices you can expect from a wholesale provider.
Although making bath bombs from scratch is the cheapest option, wholesalers provide the opportunity for healthy margins as well. Wholesalers typically charge $1.50 to $3 USD per bath bomb, depending on the order quantity and product specifications. You can then sell those bath bombs in your online store for $4-10 USD each. Another option to consider is to curate collections of products that are based on a certain theme (example: Birthday Bombs, Floral 'Bouquets', Fruit 'Baskets' etc.). This increases your average order value and overall profit.


How to dropship bath bombs
Making products is one thing---distributing them to your customers is another. If you're looking to reduce distribution costs, dropshipping is a good option for helping you buy, distribute, and sell bath bombs. Dropshipping apps let you customize product details and add them to your online store in just a few clicks. The best part is you won't need to buy thousands of items in bulk or spend thousands to start selling bath bombs online, you just pay for what your customers buy..


FAQ
Can I sell bath bombs on Shopify?
Whether you're an established business or just getting started selling bath bombs, Shopify is available to anyone who wants to build an online store. You can take your business online with Shopify's 14-day free trial to start selling the easy way.
What do you need to start a business?
Starting a business from scratch can feel daunting at first. Though, with a little guidance, anyone can start selling products in no time. Here are ten steps to consider while developing your online business:
1. Choose the type of bath bombs you'd like to sell
2. Choose a business name that reflects your current products (keeping in mind future product opportunities)
3. Test out your business idea by getting feedback and performing competitive research
4. Create a business plan to stay on track of your goals
5. Plan out your finances
6. Finalize your product idea and/or customize an existing product
7. Choose your business structure and determine how much time you'll be spending on it
8. Explore licenses and regulations associated with running your business
9. Build your team or resources required to launch and market your online store
10. Launch your new business and marketing plans
How do I start selling bath bombs?
If you're looking to sell bath bombs as soon as possible, the first step required is to set up your online store. You can sign up for a Shopify trial, choose a website theme, and load your products to start selling in no time.
How much should I sell my bath bombs for?
There are various factors to consider when choosing pricing options for your products, and it's very common to change or update a pricing structure over time. Follow these five steps to help you get started:
1. Research the market for your products and determine how much they sell for on average
2. Determine all variable costs associated with making your product
3. Calculate the profit margin on top of your variable costs
4. Locate any other fixed costs associated with running your business
5. Build your analysis based on variable and fixed costs.
How much does it cost to start a bath bomb business?
The cost of starting a business selling bath bombs depends on your market and overall business model. For example, running a part-time business will be less expensive than running a full-time business with multiple employees. When starting your online store with Shopify, there are various pricing options available depending on the plan you choose. In addition to your 14-day free trial, here's a detailed breakdown of each plan:
Shopify Lite: $9.00 USD/month; 2.4% for in-person transactions
Basic Shopify: $29.00 USD/month; 2.9% + 30¢ for online transactions, 2.7& for in-person transactions
Shopify: $79.00 USD/month; 2.6% + 30¢ for online transactions, 2.5% for in-person transactions
Advanced Shopify: $299.00 USD/month; 2.4% + 30¢ for online transactions, 2.4% for in-person transactions
Shopify Plus: starts at $2,000.00/month
Can you design your own bath bombs?
You can easily design your own products with the help of print-on-demand services like Printful. These services exist to help you save time and money by letting you white-label products with your own designs. You can also explore dropshipping as a cost effective solution for managing shipping and distribution.
How do you promote bath bombs?
There are many ways to promote bath bomb products online for free and with little effort required on your part. As you build out your business, engage new audiences by sharing your brand building process on social media platforms like Instagram or Tiktok. Once your product is established, share the news on Instagram Live or gift influencers who align with your products and are willing to share about their experience. When creating content, you'll want to think about what makes your business stand out from others to help your products stand out from the crowd. You can also start a newsletter and blog to share news, inspiration, or custom content that keeps your customers engaged and coming back for more.
Is selling bath bombs profitable?
If you run your bath bomb business effectively and create a quality product that is marketable, there's no limit to the number of sales you can make. It's important that your business generates lots of traffic to your online store in order to be profitable and acquire new customers. You can determine how much traffic is needed to reach your profit goals by using an online traffic calculator to stay on track and explore new ways for marketing your business.
DIY tips
With a DIY business, production can eat up all of your time, leaving little time left to actually run your business. Without sacrificing the handmade aspect of the products, are there tasks that you can outsource? Say you make stuffed toys. The fabric cutting or stuffing can be outsourced to a freelancer, while you are still responsible for the fine details and construction. Or, maybe the hands on tasks are what drive you? Hire an intern to help manage fulfilment, shipping, and customer service, or automate business tasks.
Pricing handmade products is trickier, because there is not only your time to consider, but there is value in the artistry and uniqueness of your work. Follow general guidelines for ecommerce pricing, but be sure to factor in labour (including your own), and don't devalue your talent.
Handmade items will invariably need to priced higher than their mass-produced counterparts. What makes a customer want to buy your one-of-a-kind dress over fast-fashion is the uniqueness, ethical production, and craftsmanship. This information should be woven into all of your site copy, including product pages and FAQs. Tell customers why it's worth paying more for handmade.
Use storytelling to share your handmade process and personal journey through video, on your shop's blog, and in marketing. Build a strong consistent voice on social to represent you and your brand. In many cases customers buy from smaller brands because they are buying into the lifestyle around that brand, or want to buy a piece of you, the creator. Highlight what differentiates you from your competition, and lean on the thing that larger brands can't: making the experience personal and one of a kind.
Another benefit to handmade goods is the ability to tailor products to customers' needs. If you offer custom or made-to-order services, be sure to communicate clearly your production and shipping times.
Start your own bath bomb store
The bath bomb market is exploding! Launch your own store today using Shopify. You're welcome to use these free high-resolution marketing and product photos that are perfect for selling bath bombs online.
Your download is starting now…
Get first access to free photos and other Burst content. Unsubscribe anytime.
Get first access to free photos and other Burst content. Unsubscribe anytime.