Facebook Posts: How to Get The Most Out of Your Business Page
---
Search thousands of free photos on Burst
It's no secret that Facebook is an incredibly powerful marketing tool. With over 2 billion active users, it's reigned supreme as the internet's most popular social network. Given that about half of those user log-on every day, Facebook presents a huge opportunity for small business owners looking to reach potential customers.
Posting on Facebook: a quick refresher
As a business, you can use a Facebook post to advertise a sale or event, offer a discount, promote new products, and even just share interesting videos, links and images that promote your brand's lifestyle. What's most important when it comes to posting on Facebook is the quality of your content.
When users follow a business page they expect to see some promotional material of your products, but nobody wants to follow an endless stream of low-effort advertisements. Different brands may have different strategies for creating content, but there's one thing they all have in common they post content users want to see. With that in mind - let's take a look at some of the ways to get the most out of your Facebook business page.
The best time to post on Facebook
The best time to post on Facebook is when users are most likely to be on Facebook and actively engaging with content, so web marketers have spent a lot of time figuring out when this is. Here's what they've found:
The days that have the highest engagement rate are Saturday and Sunday
Weekend posts have a 32% higher engagement rate than during the week.
Thursday and Friday are the best days of the week for engagement, with an 18% higher engagement rate.
Most marketing experts will recommend you post an average of once a day. Any less and you'll significantly impact the reach of your brand.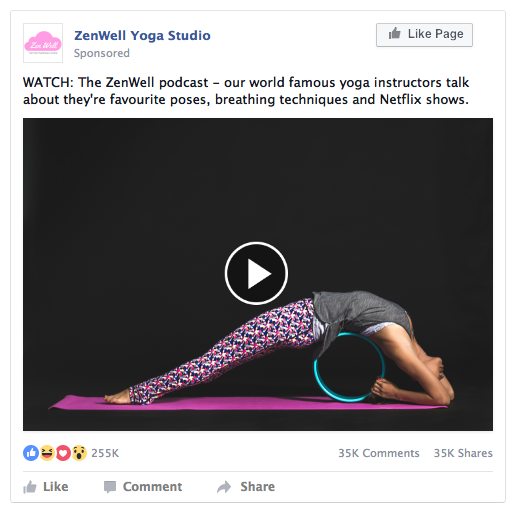 As for time, it's impossible to know the best time to post on Facebook because of user time-zones. However, in the United States, 80% of the population is located in the central and east time zones. This means if you're based on the west coast - there's a good chance most of your users aren't.

Similar disparities exist in other large countries as well. For example, in both Australia and Canada - the majority of the population is concentrated within a single time-zone.

User habits can vary greatly so there's no universal time that is best to post on Facebook for every audience. With this in mind, there are some things we can deduce about Facebook engagement for a general audience and your own audience that will give us a better idea of when to post on Facebook.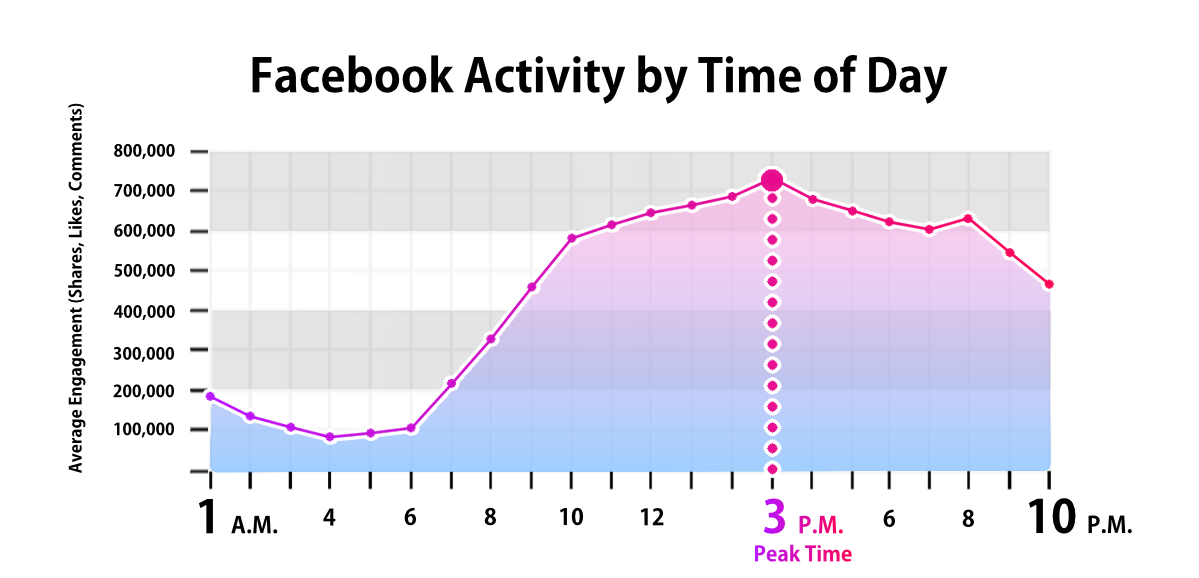 In general - clickthrough rates have shown to be their highest between 1pm and 4pm with these times being especially high on Thursdays and Fridays.

If you're looking to post on a weekend - the best time to post for engagement on Saturday and Sunday is around 12pm to 1pm. Times to avoid on weekends are in the evening and morning (between about 8pm and 8am).

These numbers are for a general audience. Check your Facebook audience insights for specfic data about your audience.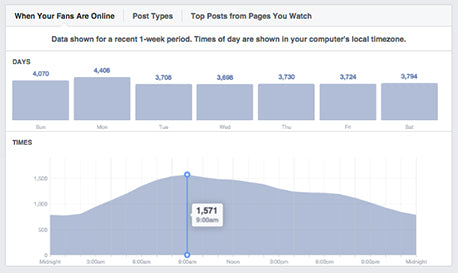 Schedule your Facebook posts: How to reach the most users
If you're looking to account for the time of day that Facebook users are most active, but can't set that time aside to post - you may consider scheduling your Facebook posts. Scheduling posts makes it easier to test post-times for engagement and systemize your Facebook marketing strategy.
There's a couple of options for scheduling posts. If you're looking for the fastest and easiest way, Facebook has a native scheduling option that will allow you to select a publish date and time when you create a post. You can also save the post as a draft if you need to finish and post it later. This works great because it allows you to set aside a convenient time to work on posts, as opposed to doing it before you post.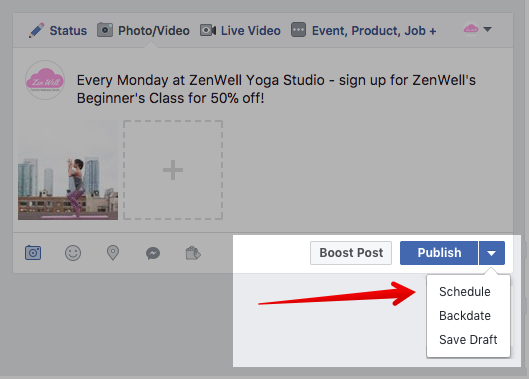 When you create a post on your Facebook page, you'll be able to see the option to schedule the post or save the post as a draft just under the Publish option. After you schedule the post - you'll be redirected to your Scheduled Posts screen where you can manage, edit and review your scheduled posts.

Once the post is scheduled, Facebook will add it for you at the time you set: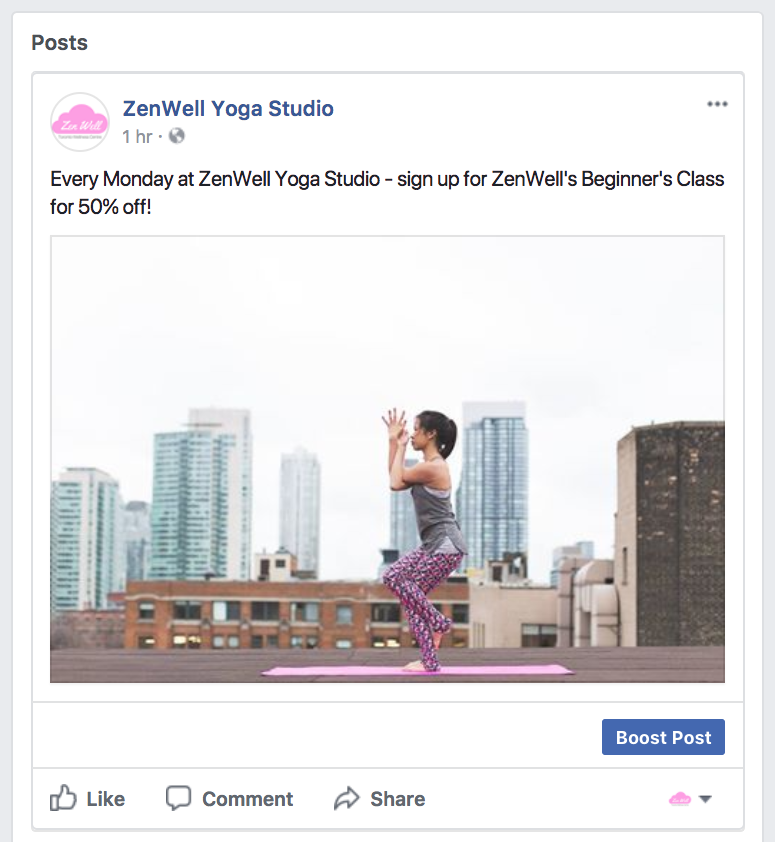 This option won't work for every business though. If you're posting several times a day, scheduling your posts weeks in advance or need to schedule posts for multiple pages at the same time - Facebook's native scheduling system leaves a lot to be desired.
If you plan on a more complex posting schedule - a third-party softwares like Hootsuite, Buffer or CoSchedule might be more up your alley. Third-party softwares tend to offer more features like in-depth analytics, multi-platform cross-posting, third-party content recommendations, team management as well as a host of other features you might find useful.
Organic reach, engagement, and boosting
To recap what we went over in our Facebook ads manual:
Organic reach: the number of unique users who were shown your post through unpaid distribution.
Paid Reach: the number of users exposed to your brand through paid advertising. Marketers have noted a statistical decline in the the organic reach of Facebook posts in the last couple of years.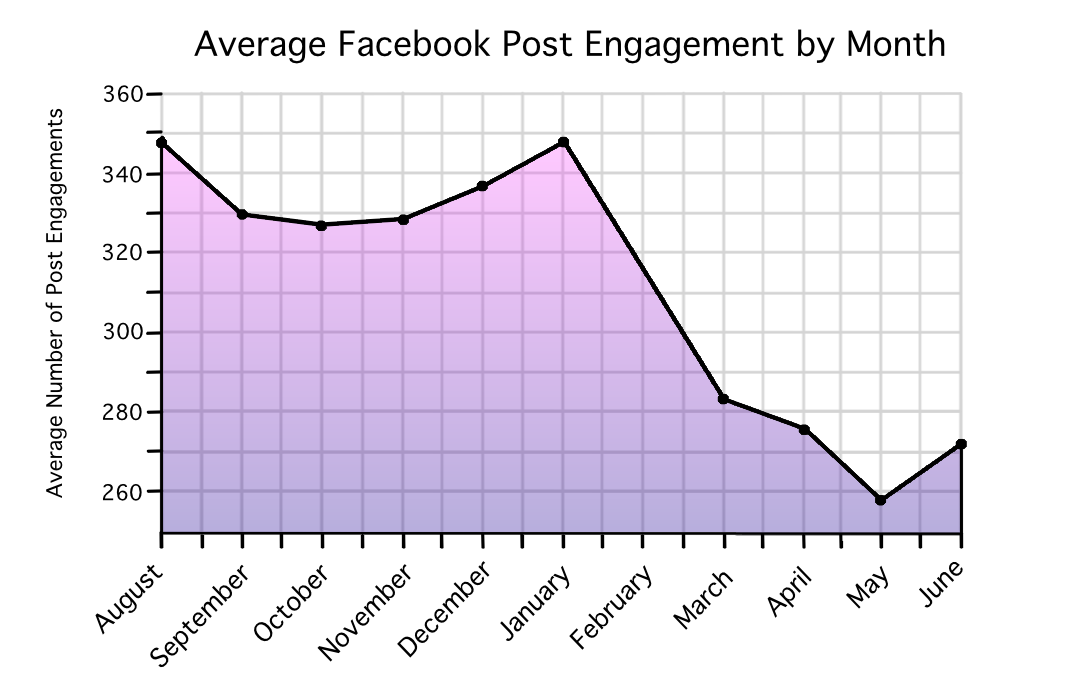 This is a phenomena that Facebook has addressed directly and can be attrbuted to two main factors:
More content. With the amount of content growing exponentially faster than the user-base - more now content competes for less available exposure.

Facebook's algorithm is smarter. Facebook's algorithm is designed to show users content that's most relevant to them. This means that new content is less likely to get fed organically if they haven't interacted with your Facebook page before.
Despite this decline, there are a couple of ways to increase the organic reach of your posts: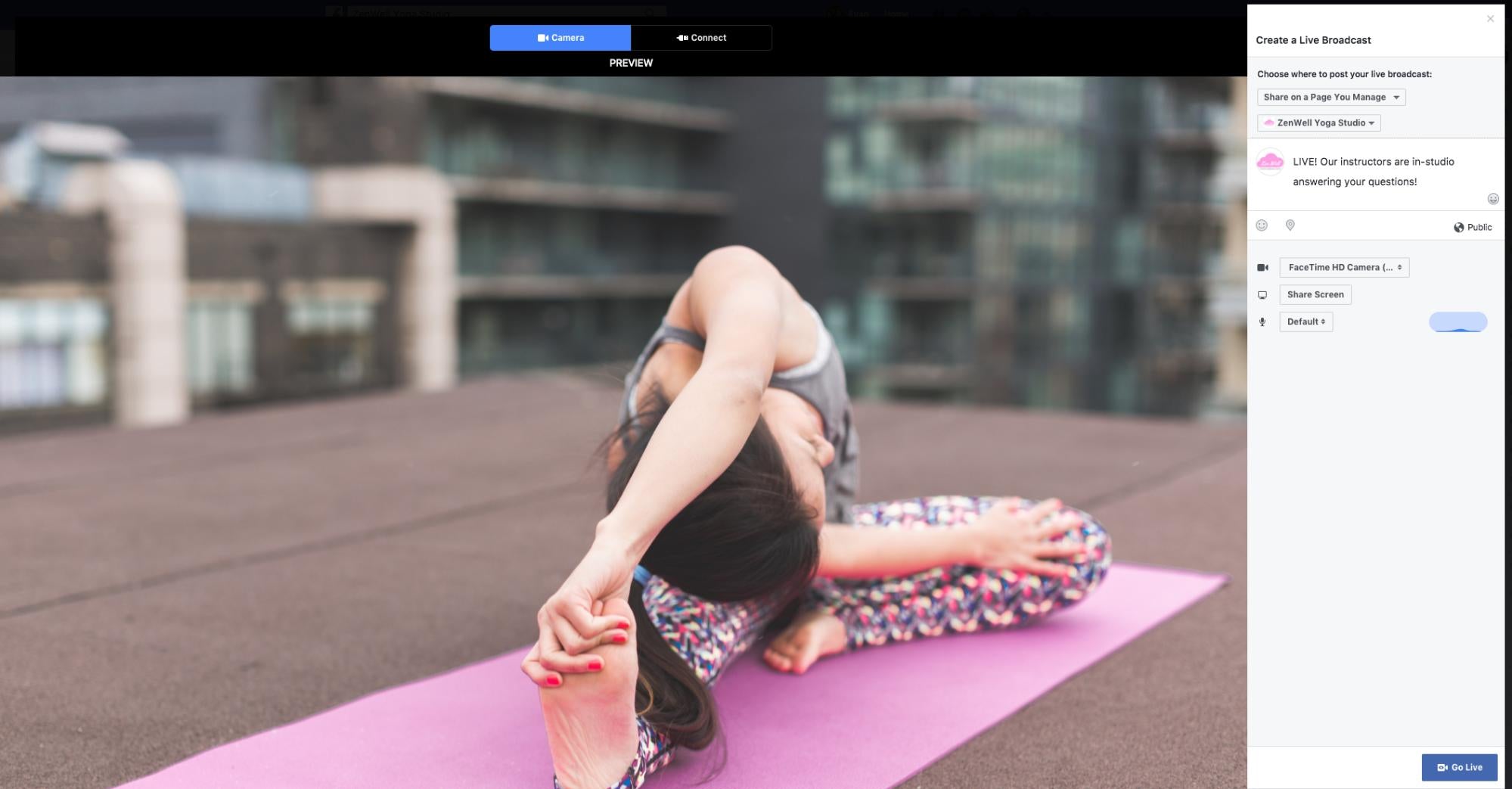 Encourage fans to engage with your posts: Posts that have more engagement (likes, reactions, comments and shares) show up in more news feeds. This means that encouraging audience participation will increase the likeliness of your post being shown to more users.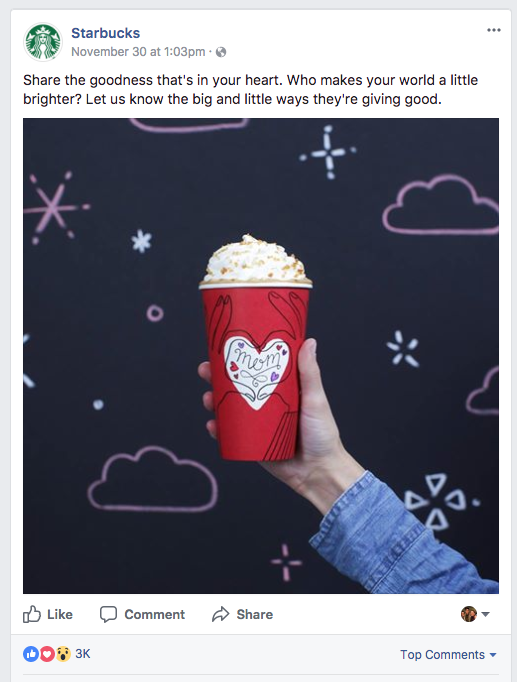 Check out this Mother's Day post from Starbucks' Facebook page in which users are asked who makes their world a little brighter. A post like this is likely to garner a lot of engagement.
Post more videos. Facebook-native videos are among the most popular types of content that users engage with on Facebook. Compared to YouTube videos, Facebook-native videos are 806% more likely to be commented on. No typo - you read that right: Facebook-native videos are more than eight times as likely to be commented on when posted to Facebook.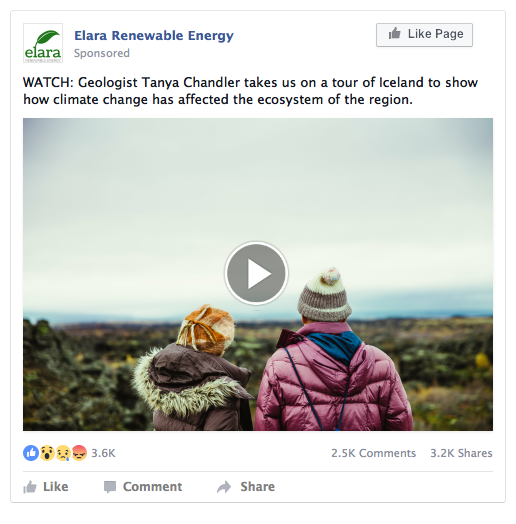 Remind your fans of how to see your content. Facebook users can edit their notification settings to make it so that more posts from a specific page show-up in their news feed. Remind users they can do this - either in a pinned post on your Facebook page in in your cover photo.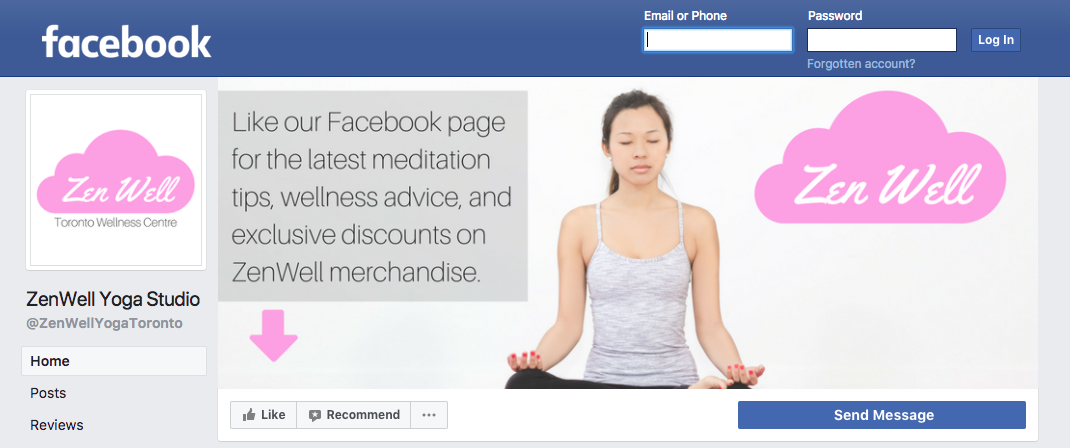 How do Facebook reactions affect engagement?
Facebook offers a number of reaction options for users: Like, Love, Haha, Wow, Sad and Angry.

Facebook's algorithm values all reactions as likes and will feed content similar to what you've reacted to - even if it's a negative reaction. This means negative reactions are better than no reaction at all.

Facebook reactions are public which means you can gauge the reaction to your content based on reactions to similar content.

Asking for reactions in a post is a great way to increase your post engagement and get feedback from your customers about your products. Getting feedback from your audience isn't just good for organic reach, but it also helps to build trust with your customers and lets them know that you care about their opinion.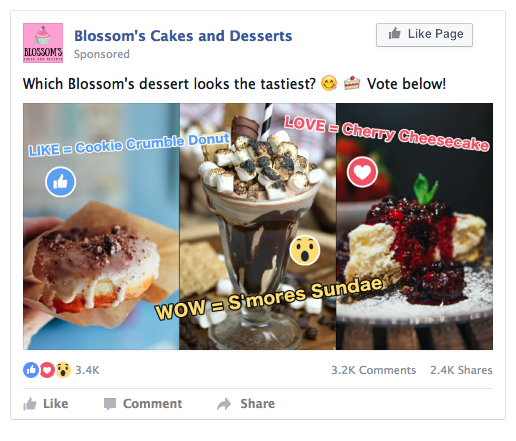 Facebook reactions are also great for softening the blows of user-anger. Audiences are better equipped to vent their frustration by using the anger reaction which means they won't be venting their frustration in more damaging ways - like angrily tweeting at you.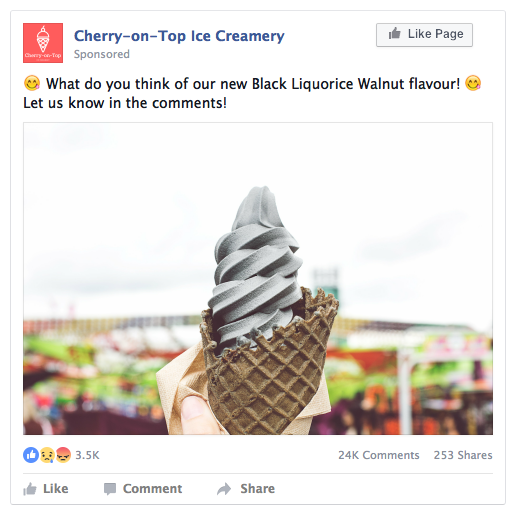 Using the Boost Post option
The Boost Post button allows you to quickly create a Facebook ad from your post to get more engagement and attract new users to your Facebook page. You can include a call-to-action button on the post and target users in specific locations, with particular interests, or who have behaviours similar to users that have engaged with your posts in the past.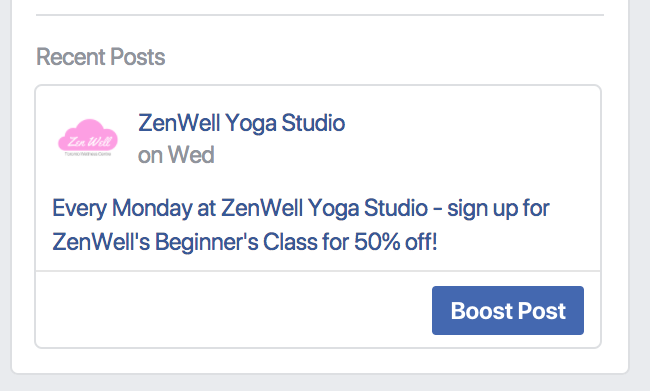 Boosting posts isn't good for every Facebook post you create. When you boost a post - essentially Facebook takes that post and turns it into a Facebook ad that's optimized for post engagement. This isn't the best course of action for things like link posts when you're trying to drive conversion or clicks. However - boosted posts can be great for creating brand awareness.
Using link posts on Facebook
Posting an effective link post is a great way to funnel an audience to a specific page of your website. This makes it great for driving traffic to your store for a sale or event outside of Facebook. Link posts are most effective when they're done as part of a conversion campaign, since this type of ad campaign is good for funnelling audiences through the a conversion funnel.
Facebook links content and optimal text length
Facebook talks about five ad elements that come together to create a link post: Image, headline, text, call-to-action, and the News Feed link description.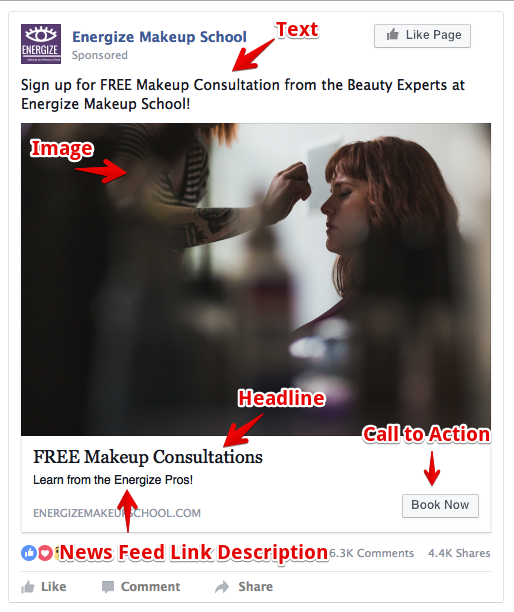 Image: You'll want to use high-quality images for your Facebook ads with an aspect ratio of 9:16 to 16:9. The images will be displayed at 400 x 150, so this is what Facebook sets the minimum size at but a size of 1200 x 450 will be easier to work with and easy to compress later on.
Remember that Facebook users get exposed to a lot of ads - so an image that might break the monotony of their news feed is most likely to get engagement. Use dynamic, brightly-coloured images. If you plan on using photographs, have them taken professionally or use free stock photos.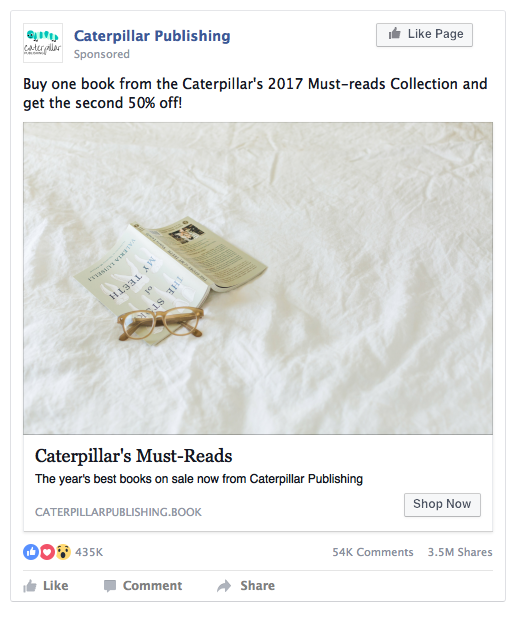 Headline: Your headline will appear underneath the image on your ad. The headline is bolded and in larger font on the ad, so most of the time it's going to be the first part of the ad that the customer reads.
Facebook users casually browse through mountains of content each day, so their initial reaction to the headline is what's most important. Statistically - users makes the decision to engage with a post within the first three seconds of viewing it. There's not a lot the average person can read in 3 seconds - so it's best to make the headline short and sweet. Get to the point. You can write more on the post itself but your headline is limited to 23 characters so use them well.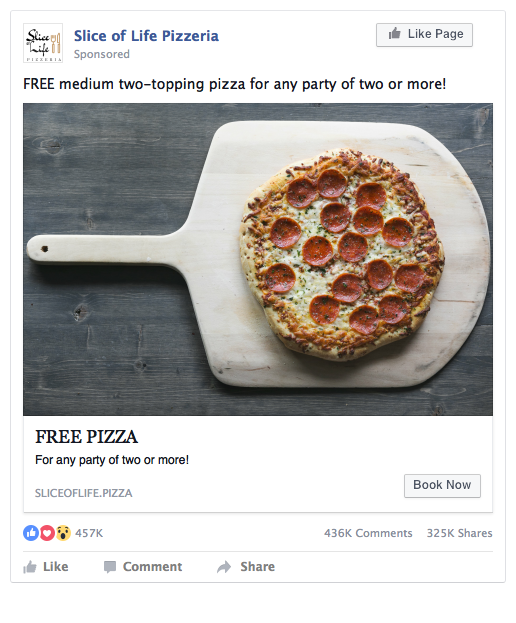 Text: This is where you can add additional details that you might want to include. Facebook truncates the post text at 125 characters, so it's best to avoid mentioning redundant information.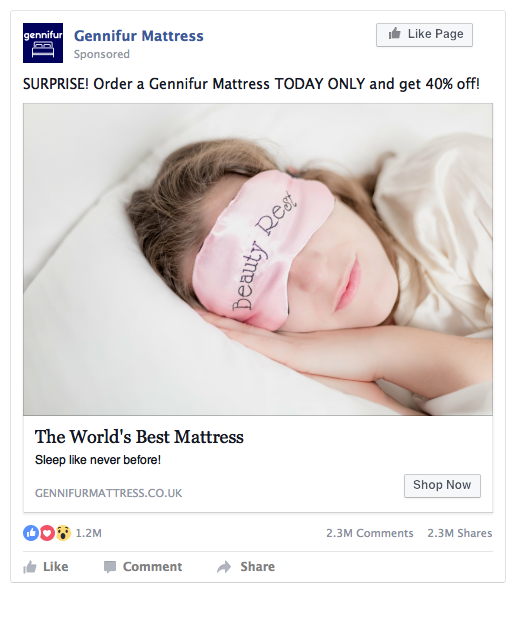 Call to Action: The call to action button is key to driving traffic to your site and increasing conversion rates. Facebook offers five different button text templates - each is best to use in certain scenarios:
Shop Now: Great for sales or advertising a new collection of products.

Book Now: Great for businesses that take client appointments - such as spas, salons or consultation services. Works well alongside a [lead campaign](burst-link-to-fb-ad-page).

Learn More: Also works great for collecting leads, but geared more towards business that provide classes, seminars or ticketed events.

Sign Up: Similar to Book Now and Learn More - but tends to work better for things like free trials of a service.

Download: For downloadable products and giveaways.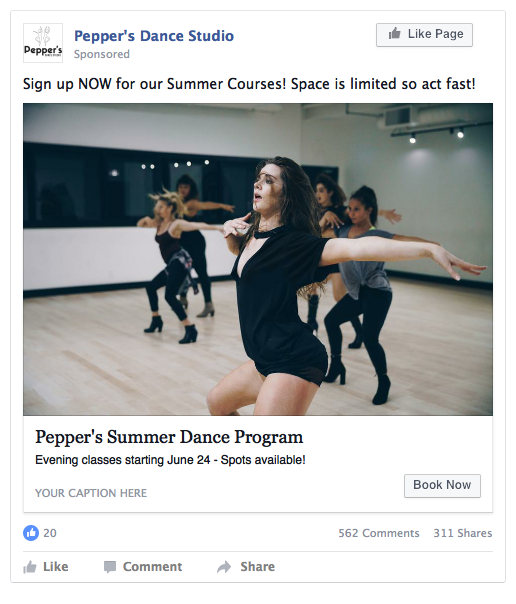 News Feed link description: The news feed link description is where you'll have most of your text. This text can be up to 200 characters, so it's quite a bit more robust than other text entries. This is where you'll add important details. Use this space to draw customers into your brand and let them know how your product or service can help them out.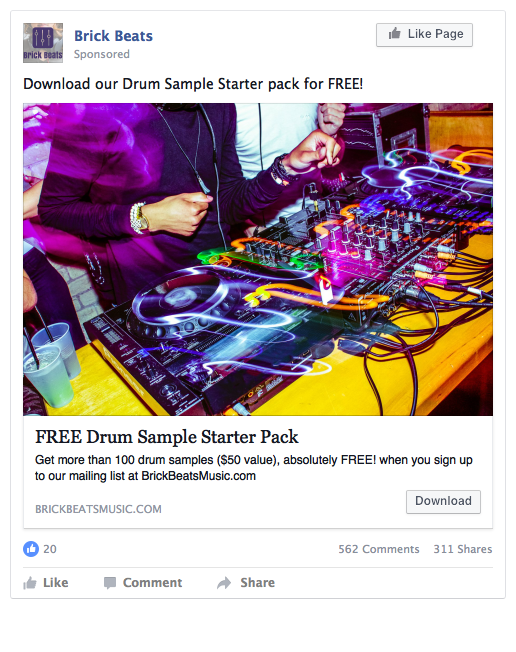 Facebook open graph content
When you or your fans post a link to a page on your website, you won't have the option to edit the post and add the correct image/text so that it appears correctly on Facebook. However, you can still customize the code of the page to tell facebook what elements to take from the page and display on the post if it's linked.
The way you can do this through Facebook is with Facebook's open graph markup language. When a URL is shared to Facebook - Facebook scans the code of that page for clues as to what image and text to use in the preview.
In order to point Facebook towards using the right image and description - you can mark up your site with Facebook's Open Graph Tags. These tags will point Facebook in the right direction and tell it what images/text to use in your preview.

Here's a breakdown of the different properties you can use to direct Facebook to the correct content.
og:url : This describes the URL for the page you're creating properties for. Make sure the URL doesn't have any session variables, identifying parameters or counters.

og:title : The title of your blog article, product, collection or page. This should be specific to the page and shouldn't contain any branding.

og:description : This is the page description that appears on the Facebook posts. Remember that Facebook truncates this at 125 characters.

og:image : This is the image that you want the post to use when it's posted to Facebook. These images get displayed at 400 x 150 with an aspect ratio of 9:16 to 16:9.

og:type : This describes the type of media your content is and effects how the content appears in your news feed. The default type will be website if the type isn't specified. Valid pages types include articles, books, businesses, products, courses and more - check out Facebook's full list of type values here.

og:locale: This is the locale of the link which is generally used by websites that have a page in more than one language and want to default to the correct language. The default locale will be en_US (American English) if unspecified.
Without adding tags, Facebook's internal tools will scan the page to deduce what it beleives is the best image and text to use. Using Open Graph tags designates these criteria specifically.
How to reset Facebook OG information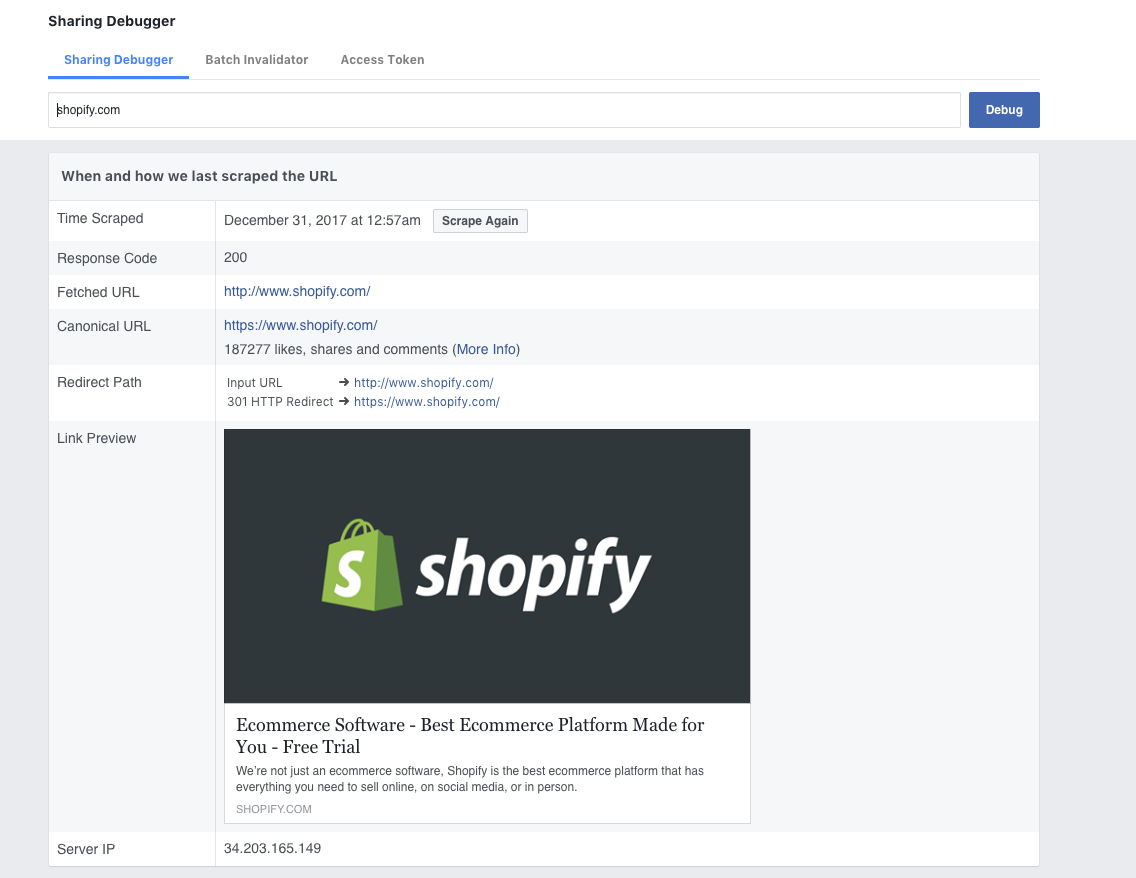 Facebook caches information about web-pages and uses this info when that page is posted on Facebook. This means that if you update the coding of your web-page to direct Facebook to your OG info after you've posted the URL - you'll want to use Facebook's debugging tool to fetch new info about the URL. Simply enter the URL and then select Debug to fetch new info about the URL.
Bringing videos to your business page for greater storytelling
Video posts on Facebook receive between 10-30% more engagement that link or image posts. Videos can be great for telling a story about your brand or creating amazing content that keeps your users coming back to your page.
Specs for posting a video on Facebook
The aspect ratio for your video will be 9:16 to 16:9 - the same as it is for images.

Facebook sets the maximum file size at 4GB with the maximum length of the video being 240 minutes. It probably goes without saying - but avoid stretching your video to the max length. Users tend to watch videos for about 3 seconds before deciding whether or not to engage with it in the form of a like, comment or share.

Facebook also gives you the option to add sound and captions to your video. Captions are optional - but given that 85% of Facebook videos are watched with the sound off, we highly reccomend including captions if there's important information in the dialogue of your video.
Facebook video content
There's no guaranteed set of principles that will get your video a lot of engagement. Ultimately, the amount of engagement will be dependent on how interesting and relevant your content is to your followers. However, based on what we know about the types of posts that get the most engagement - there's a couple of guidelines for your to follow.
The Do's and Don'ts of Facebook video content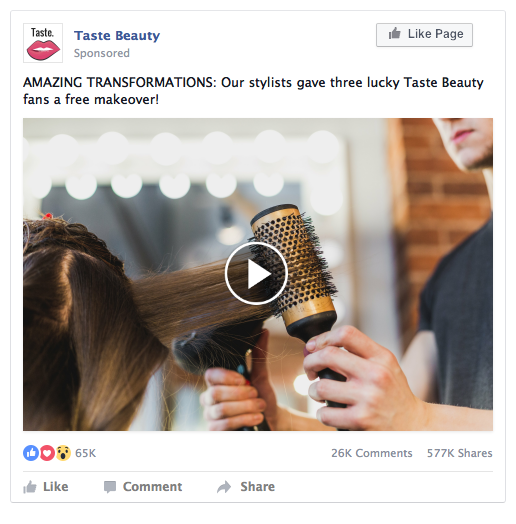 DO: Keep your video short. Users generally make the decision to engage with a video or not within the first 3 seconds of viewing it. Keep the video under two minutes. If you have a longer video - a good practice is to post a one minute clip to Facebook and then direct the user elsewhere (your YouTube channel, for example) to view the rest of the video.
DON'T: Add important details in the audio of your video. Audio is optional but remember that 85% of users are watching with the sound off. If you need to include important information about event or promotional details, put it in the video description.
DO: Add captions. Facebook gives the option to upload an SRT (SubRip Text) file for captions when you upload the video, so if you have dialogue, this step is a must. To create an SRT file for your captions, you can use a third-party service like Rev or download an SRT file for the video after uploading it to YouTube. Youtube's captions are auto-generated, so be sure to proofread and edit them before downloading.
DON'T: Use landscape orientation. Although vertical video was once shunned by advertisers for its inflexible aspect ratio, times are changing. With Facebook announcing last year that 80% of its ad revenue comes from mobile ads, advertisers are starting to warm-up to the format. Since there's a good chance most of your ad views are going to come from a mobile phone - you want to film your video in portrait mode.
DO: Track your engagement. It's important to understand how long users are interacting with your video and in what capacity. You can view your video analytics in your Facebook business account by going to the Posts tab of Page insights and selecting Post Types.
DO: Do it live. Live videos are prioritized by Facebook's algorithm and are ten times more likely to be engaged with compared to non-live videos. Live videos don't need to be too complex - something as simple as a behind-the-scenes look at your business or a Q&A session are a great for humanizing your brand and creating awareness of your product.
Learn from the Pros - Ideas from brands getting Facebook Video right
If you're stuck on what kind of videos might engage your audience, it helps to looks at what top brands are doing and how you can cater those ideas to your brand. Here are some ideas from some of Facebook's most popular brand pages for videos.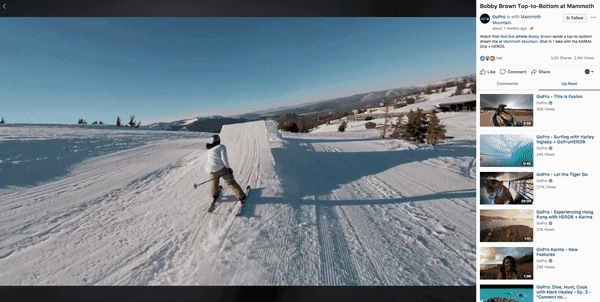 Use your product. For certain products, demonstrating the use of the product in an interesting format is a great way to create compelling content. Demonstrating how users can use your product is a great way to create compelling video content. On their Facebook page, action-camera manufacturer GoPro is known for creating exhilarating extreme sports videos that have been created with their products.
Cater to your audiences other interests. Not every product will lend itself to create quality content in the way that the GoPro does, but you can still make interesting content if you understand what your audience enjoys. Facebook makes it easy to explore other pages and content that your users like. Take a look at your audience insights and try to understand what you can post that is most likely to gain traction.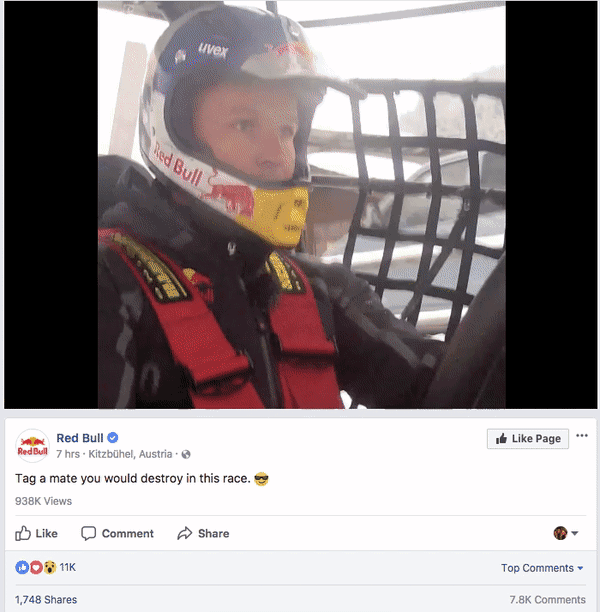 Energy drink giant Red Bull has been incredibly successful at utilizing Facebook videos to build an audience. Red Bull sponsors a lot of extreme-sports events, which gives them the opportunity to create some exhilarating web content. RedBull's Facebook strategy is smart: the idea is to provide content that is compelling to their core demographic of extreme sports enthusiasts, without doing too much aggressive selling. This particular post is great because of the call to action as well ("Tag a mate you would destroy in this race").
Take your followers behind the scenes. Chances are, if your followers have an interest in your business they'll have an interest in what goes on behind the scenes. Why not show them? A behind the scenes look at your office, warehouse or manufacturing facility is a great way to show users the human side of your company and give them more information on where their products come from.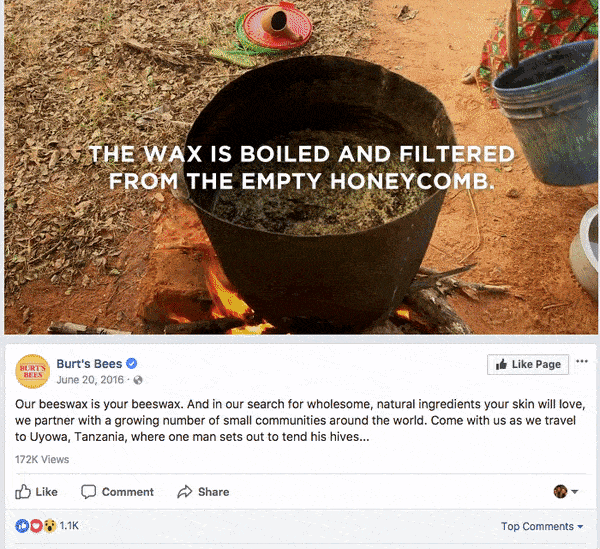 Lip-care manufacturer Burt's Bees has great example in this Facebook post. The short video documents a day in the life of beekeepers in Tanzania. Not only is the video fascinating but it also shows a high degree of transparency from Burt's Bees about where they get their raw materials.
Cats. They're the internet's favourite animal. If you're having trouble coming up with ideas, anything involving cats is a win.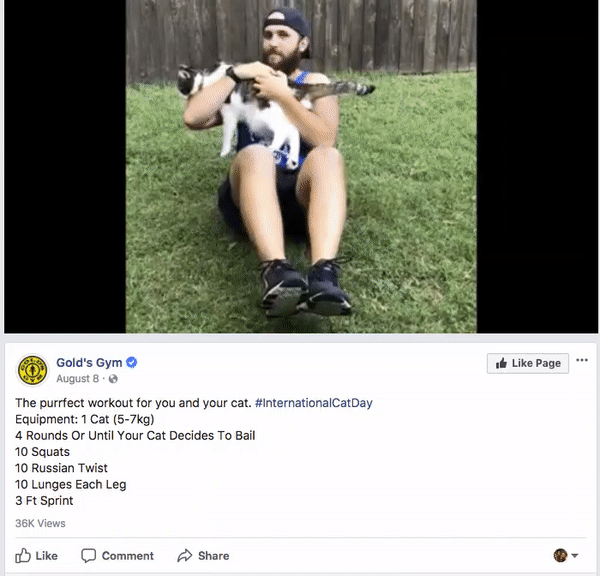 In this Facebook post from Gold's Gym, a personal trainer takes you through some excercises you can do while holding your cat. The video is obviously meant to be tongue-in-cheek - but the easy-to-digest humour makes the video instantly sharable.
Let your followers know how they can use your product. How-to videos are an insanely popular genre across all social media platforms. People love learning a new skill, recipe or trick - so providing a quick instructional video is a great way to increase engagement.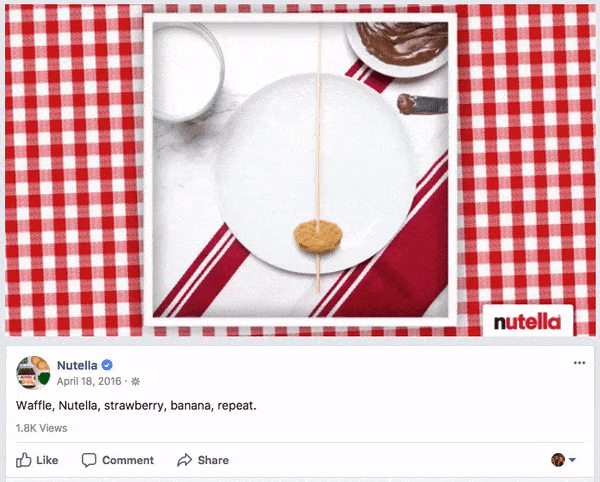 Nutella's Facebook page has a ton of great recipe videos like this.
Start a Vlog. A vlog helps to humanize your brand and provides updates for users interested in your product. Remember that a good vlog is dependent on the personality of the vlogger. If you're not as charismatic on camera - this is a spot where it might help to get some help from someone with a background in entertainment.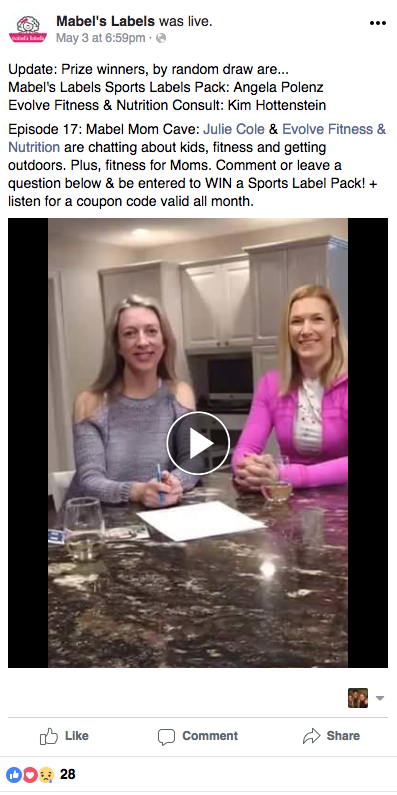 Facebook GIFs and cinemagraphs
In place of videos - Facebook also allows you to post gifs or cinemagraphs. Though some people might be unsure of how to post a gif on Facebook - it's incredibly easy. You can upload a gif as a video using the add Photo/Video option in your status field:

Once you select your gif from your files, you'll be able to add additional content to the video like tags and a title: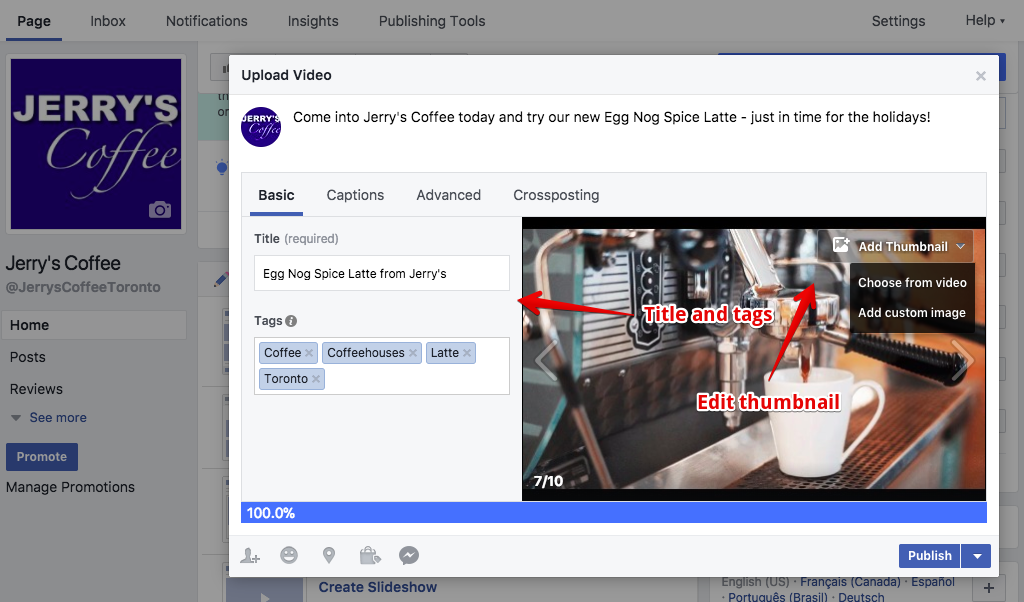 Aside from posting gifs on your Facebook page, a lot of brands also use gifs as engagement tools with their followers when interacting with them. Gifs are a fun, playful way for brands to interact with their patrons and add a personal touch to their messages. You can find gifs for saying just about anything from sites like Giphy, Reaction Gifs or any number of subreddits and tumblr profiles.
Using images to increase your engagement on Facebook
Videos are great for content and engagement - but in order to keep up the consistency that Facebook users come to expect from the pages they follow, you'll want to post image content as well.
Image post specs
It's recommended that images you plan on uploading to Facebook be sized at 1200 x 630 pixels.

Images uploaded to Facebook will appear with a maximum width of 470 pixels in users Facebook feeds and a width of 504 pixels on your Facebook page.
Types of image posts
There are a ton of different types of images you can post for engaging with you Facebook users. There are a couple of tried and tested ways brands can engage with their users on Facebook.
Ask for feedback.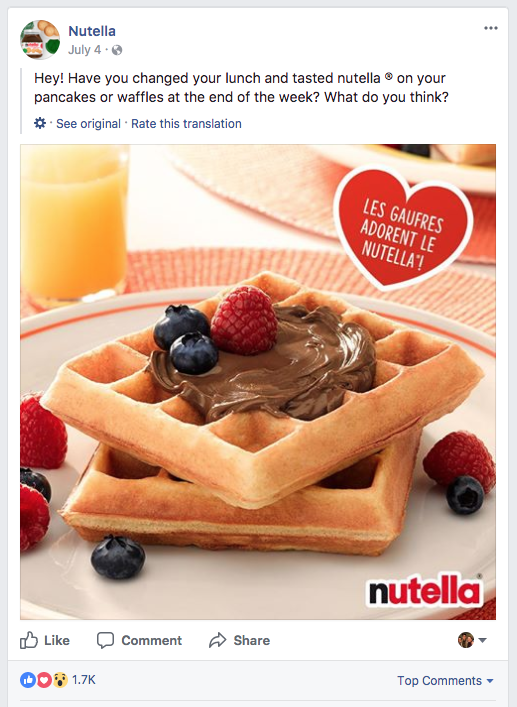 People love giving feedback on new products and services and this is a great way to collect that feedback to help improve your product. Asking for feedback is also great because providing that feedback calls for the user to engage with your content, which helps with your organic reach.
Start a discussion.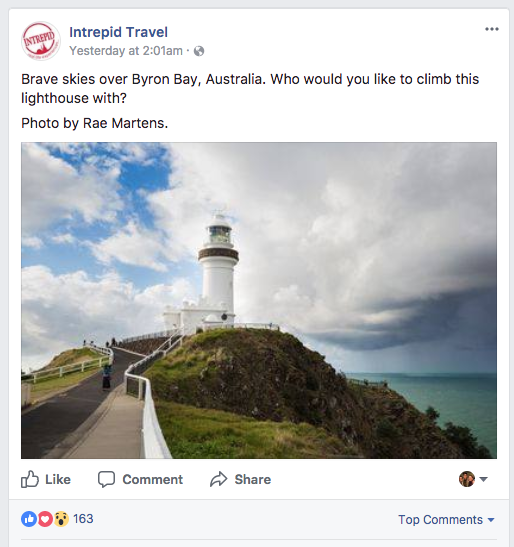 Ask your followers for their opinion on something and get the discussion started. This questions doesn't always need to relate to your product. The point is to get user engaging with your post to increase your reach and brand awareness.
Ask your followers to engage.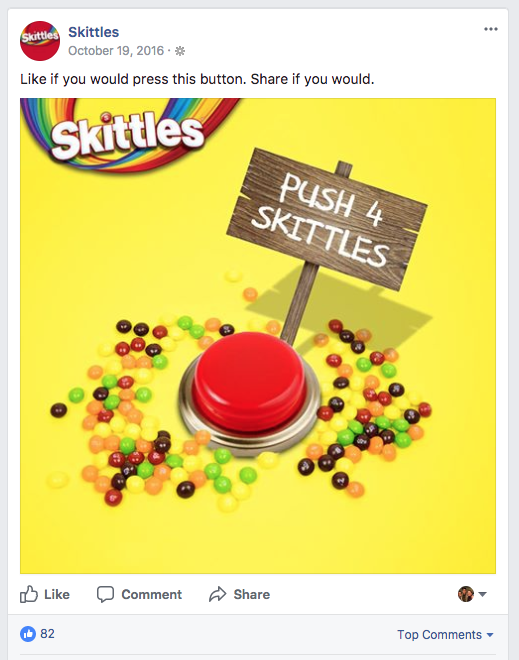 It doesn't hurt to simply ask your followers to engage with your post. You can do surveys via Facebook reactions (as discussed earlier), or by letting them know to share or like something. Just be careful with this - you don't want to push sales too much. The Skittles post above is successful because it's humorous and doesn't demand engagement too harshly.
Post photos of special events.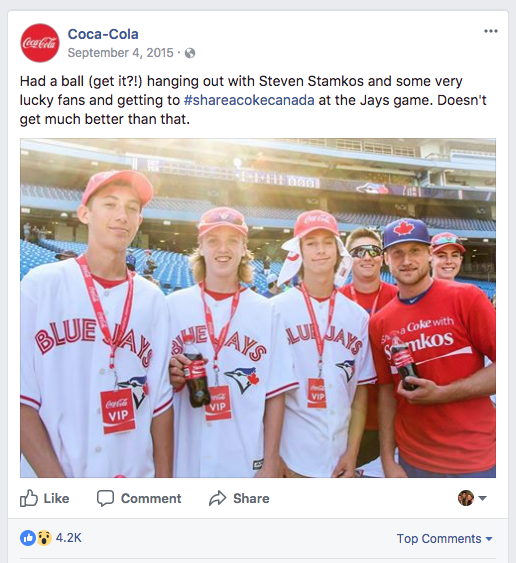 Sales, Promotions, special events, grand openings, charity drives, etc etc - post pics of things your company is doing. It's great because it puts a human face on your brand and also feels very much like something a friends would do - as opposed to a brand. Posts like these aren't meant to be professionally taken photographs - so it's easy to do. It's just a matter of putting on an event where you can take pictures.
Ask your audience for content and then re-post it.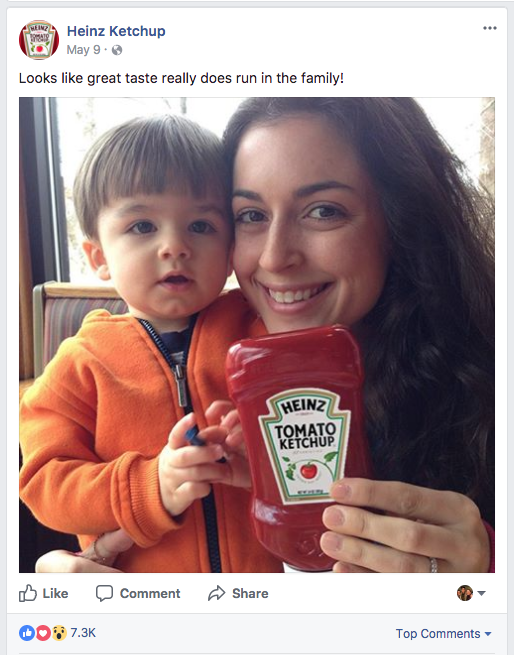 Asking your audience to post pictures or videos of them using your product is a great way to get content for sharing without actually having to produce the content. Facebook users generally enjoy sharing pictures of themselves over Facebook, so it's usually pretty easy to ask them to snap photos of your product in use and send it to you to add to your Facebook page.
With Facebook being the world's most popular social network it's an insanely powerful marketing tool both business both big and small. It helps to understand how users interact with Facebook content in order to understand what kind of content is more likely to gain traction for your brand. Above all else - compelling content will be key. Even if you follow every guideline listed here to a t - your videos will never pick up traction if the content isn't compelling. Learn what your users enjoy, and when you do this you can effectively produce content that will help grow your brand.
Start creating your Facebook posts
Burst has thousands of hi-res, royalty-free images ready for your Facebook page.
Get first access to free photos and other Burst content. Unsubscribe anytime.
Thanks! We'll be in touch.