Facebook Cover Photos: Size & Everything Else a Business Should Know
---
Search thousands of free photos on Burst
We tend to put a lot of thought into the content we post on Facebook, but for too many businesses, the Facebook cover photo is an afterthought. In an age where creativity is so highly valued, an uninspired photo is a surefire way to get your users to stop paying attention to your business.
To help your business navigate the ever-changing world of Facebook cover photos and videos, we've put together this quick guide. So without further ado, let's learn everything there is to know about Facebook cover photos and cover videos!
Facebook Cover Photo Size
The Facebook cover photo presents an opportunity for business owners as it's the Facebook equivalent of the storefront window. It's a tiny peek into your brand and an effective way to turn casual visitors into an engaging audience.
Whether you're using Facebook to generate leads, sell products or build a community of customers - the cover photo is the first step in achieving your goal.

Facebook Cover Photo Size on Desktop
Facebook's known to update cover photo specifications without letting brands and business owners know ahead of time, so you should always be cognizant of what the latest specs are. In 2017, Facebook updated the cover photo for business pages, so that the desktop view allowed for a more streamlined experience. Here are the dimensions as of December 2017:
Facebook desktop cover photo size (2017 update): 820 pixels wide by 312 pixels tall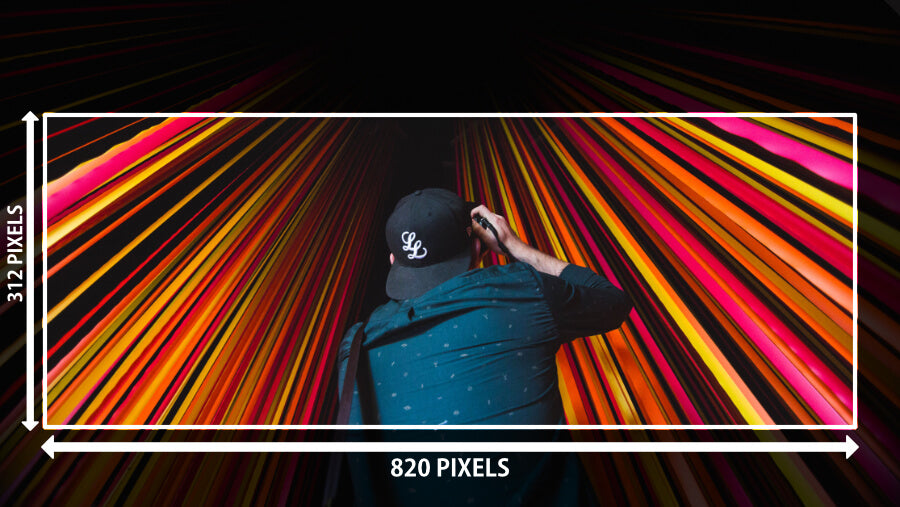 No matter what dimensions your uploaded image is at, on desktop, Facebook will crop it down to the 820 pixels wide by 312 pixels tall cover photo size. With this in mind, you'll want to ensure that the focus of your photo is in the center of the frame.
Facebook Cover Photo Size on Mobile Devices
As mentioned earlier, you'll never know when Facebook will change the cover photo specs for mobile devices. As of 2017, the most up-to-date dimensions for Facebook on mobile.
Facebook mobile cover photo size (2017 update): 640 pixels wide by 360 pixels tall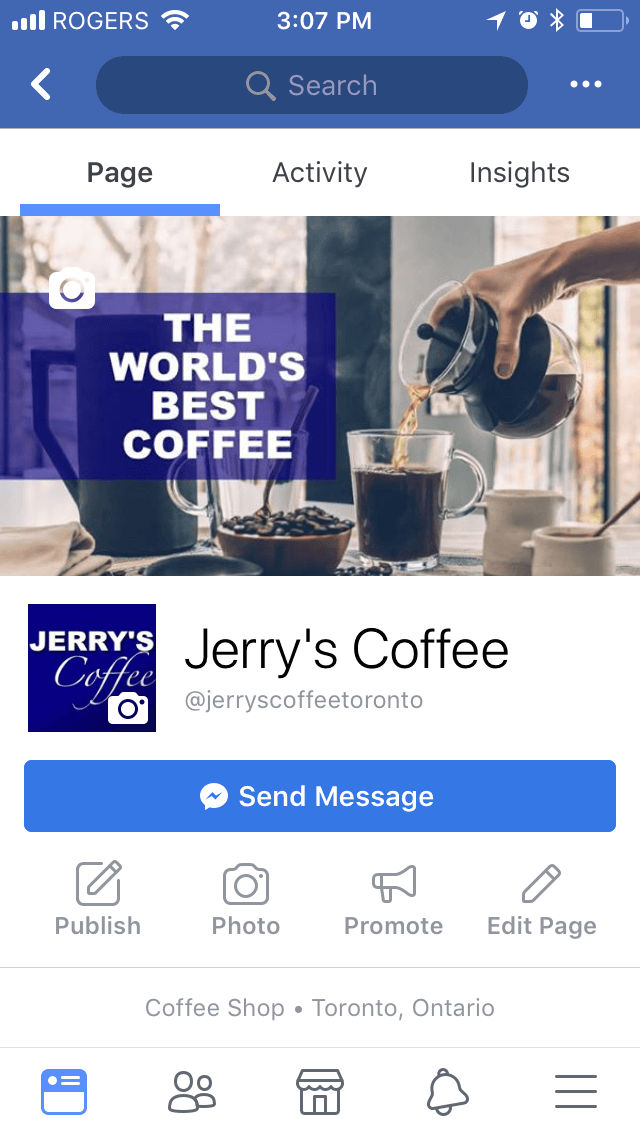 Even though the cover photo dimensions for mobile and desktop are different, Facebook only gives you the option to add a single photo. So you'll have to ensure it's versatile enough to display on desktop computers and smartphones.
The area that will be shown in-frame is narrower on a mobile screen than on the desktop, but also stretches to be a little taller. A photo with wide edges that can be cropped varying degrees is ideal for this.
A Template for Your Facebook Cover Photo
To understand if the image you want to use would make a good cover photo, it helps to imagine the image with two boxes overlaid on top: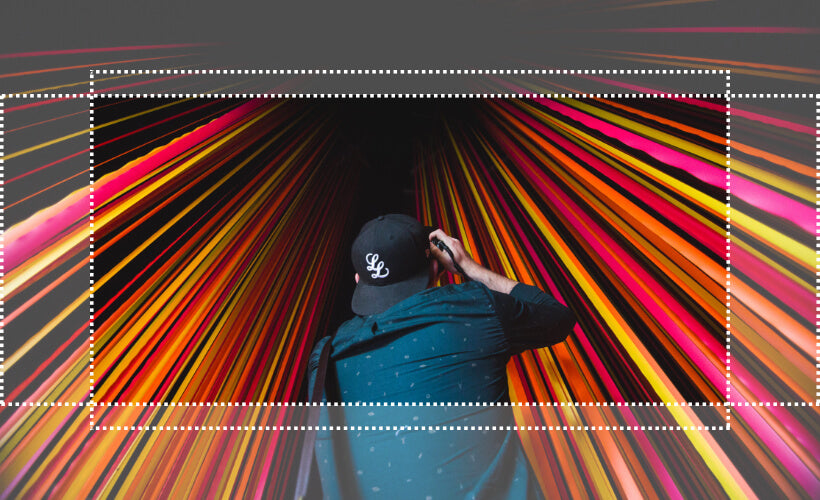 The tall box represents the frame for the mobile view and measures at 640 by 360 pixels.
The wide box represents the desktop frame and is sized at 820 by 312 pixels.
Here you can see why an image with the subject towards the middle of the frame works best for this. For images with text overlayed, remember to keep the text in the center frame. This means that the text will display in full on either desktop or mobile Facebook pages.
For a Facebook cover photo that is quick to load and doesn't appear blurry, the following specs should be used:
File-type: sRGB JPG file
File-size: 100 kilobytes or less
You can crop and compress your image to this size in the photo-editing software of your choosing or by using a handy image resizing tool.
Designing a Cover Photo for Facebook Pages
Once we understand how Facebook is cropping its cover photos - how do we prepare an image that will look good when cropped? Well to start, we need to understand what makes certain images better than others for cover photos.
Images that make use of patterns and textures make great cover photos because they're versatile enough to be cropped to different sizes without losing anything stylistically. Pictures like this tend to be more adaptable to different frames, since the primary "focus" of the image is the pattern as a whole. On top of this - it's relatively easy to overlay text on images like this to help advertise a sale, product or event.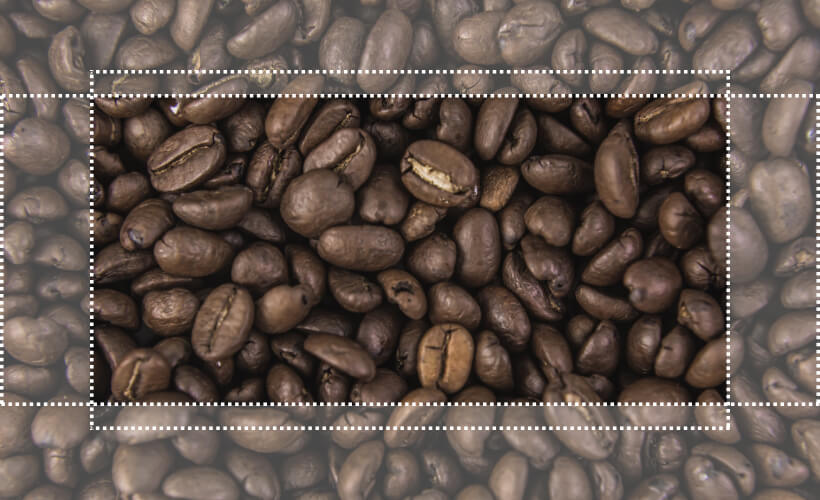 In this image, for example, a good buffer is present on the sides, top and bottom of the image, ensuring the text doesn't get cut-off when uploaded.
Keep the text within your two overlaid frames so the text can be read clearly.
Inspiration for Your Business' Facebook Cover Photo
Brands that successfully utilize their Facebook cover photo find a balance between the crop dimensions, cover size and inspiring design. The file specifications don't limit their ability to design a stunning cover photo; rather it enables them to be more creative to grab the attention of their followers.
Let's go over a couple of brands getting it right and examine why their cover photos are effective:
Atlassian

Atlassian is an enterprise software company based in San Francisco. Their Facebook page features a clever cover photo design of their logo in a number of patterns organized into a symmetrical 5 x 2 frame. From a design perspective, the image is clean and interesting. The objects in the frame are balanced and the colors are harmonious - so it doesn't pull attention elsewhere. Atlassian has a beautifully designed cover-photo that attracts the viewer's attention and entices them to engage with the brand.
Birchbox

Based in New York City - Birchbox is a subscription service that sends a supply of makeup and beauty products at the start of each month. The cover image on their Facebook page is a great example of one technique that a lot of retailers use. The image is a flat-lay photograph of their products arranged in an aesthetically pleasing fashion. There's balance, color harmony - and an image that gets right to the point in showing off the products they sell.
Andy Westface

Andy Westface is a Hong Kong SAR based illustrator and graphic designer. Westface is primarily known for his saturated pastel colors, minimalist design and his use of cute animals in his work. Given his prowess for pastel aesthetics - it's no surprise that his Facebook cover photo makes use of his unique style. This cover image acts as a quick introduction to Westface's vector graphics and color palette and effectively invites the user to explore the page further.
Facebook Cover Video Specs
In addition to the standard cover photo, Facebook now offers users the option to add a gif, cinemagraphs or a Facebook cover video.

If you're going to use a Facebook cover video, make sure that the video is optimized for an upload so that it looks professional and effectively showcases your brand. Videos can be uploaded to your Facebook business page the same way you'd currently upload a cover image.
Facebook cover video dimensions (2017 update): 820 pixels wide by 312 pixels tall.
Although this is what your cover video will be cropped to, we'd recommend your video be 820 pixels wide by 462 pixels tall. By sizing your video at these dimensions, you'll avoid pixelation.
Facebook cover video length (2017 update): 20 to 90 seconds.
Videos play automatically when a user visits the page and will be muted by default. Avoid adding any vital information to the audio of your video, since most users won't be turning the audio on.If there's any vital info you want to share, it's best to have it appear as text on the screen.
Facebook Cover Video Examples
Facebook cover videos are still relatively new, so the addition of one to your page is a great way to make your brand stand out. When looking for creative inspiration - sometimes it's best to take a look at what the pros are doing and try to emulate it. Here's a list of brands that are usingFacebook cover videos, GIFs, and cinemagraphs to communicate and engage with their audience.
Dollar Shave Club

On their Facebook page, Dollar Shave Club uses the flat-lay product photo idea mentioned earlier - but with Dollar Shave Club, there's the added flair of the animation over the flat-lay. With the products hypnotically bouncing around it's hard to stare at this image without being mesmerized. Product cinemagraphs like this are a great way to draw the attention of users visiting the page. You can either make a cinemagraph like this on your own using photoshop or use a ready-made cinemagraph from Burst for free.
National Geographic

National Geographic's cover video is one of the most visually-stunning cover videos being used on Facebook. NatGeo's cover video features high-definition shots of bright, bioluminescent sea-creatures set against the pitch black background of a seemingly endless deep sea. The video's saturated colors act as a lure to draw the user's attention immediately. It's also works as a great intro to the types of content users will find on the page. A well-made cover video like this can go a long way in building a lasting relationship between a brand and their followers.
Buffer

On their Facebook page, Buffer App uses the technique of showing a behind the scenes look at their employees' day-to-day lives. From the POV clip of a drone flying over waving employees to the candid shots of employees chatting in a circle - everything in the cover video for Buffer is designed to showcase the technological ingenuity that the company wants users to associate with their brand. Videos that show the human side of companies like this tend to go a long way in humanizing a brand and driving customer loyalty.
Wave

Wave is a video app that allows users to create professional marketing videos using stock footage, text overlay, and video editing tools. The app combines an intuitive user-interface with a database of video clips that can be used for any video marketing projects. Given the product they're selling, it's no surprise that Wave's video cover is the type of marketing video one can expect to make with the app. It works because it lets users know right away exactly what their product does.
Ideas For Your Business' Facebook Cover Photos and Videos
If you're looking for some inspiration on what to add as your own Facebook cover photo, you want to start by defining the goal of your Facebook page. What is the purpose of your Facebook page? Are you directing users to make purchases from you? Are you building a character for your brand? Or maybe you're just looking to build a good social media following? Whatever the reason - the end goal of your Facebook page should define the type of cover you want to have. Here are some ideas for your Facebook cover photo:
Introduce your aesthetic

Your cover photo is a great way to introduce yourself to the world if you're an artist, designer or just an entrepreneur with ambitious branding ideas. Since the purpose of pages like this are to showcase an artist's style, it makes sense to have a cover photo that does just that.
For this type of cover photo, it's best to use a minimalist design and limit the number of colors to create a color scheme for your brand. Cover photos like these thrive on creativity, so if you're less artistically inclined you might consider hiring a graphic designer to do this work for you.
Show off your products

Online retailers benefit from a cover photo that shows off your latest and most popular products. If you're selling a lot of products, flat-lay images work great for showcasing all of them.
Behind the scenes

Give your followers a glimpse of life at your company by featuring a behind the scenes look. Include office photographs of your employees at work or maybe a cover video giving a behind-the-scenes look at your shipment process. Techniques like this can go a long way in humanizing your brand and showcasing the people behind it.
Advertise your latest sale

Use your cover photo to advertise an upcoming sale or special event. This is great for driving conversion and funneling users to your online store. Make it easy for users to follow from the page to the sale by pinning a post to your page with a link to your sale.
Facebook Group Cover Photos
In their 2017 update, Facebook has changed the cover photo dimension for group cover photos: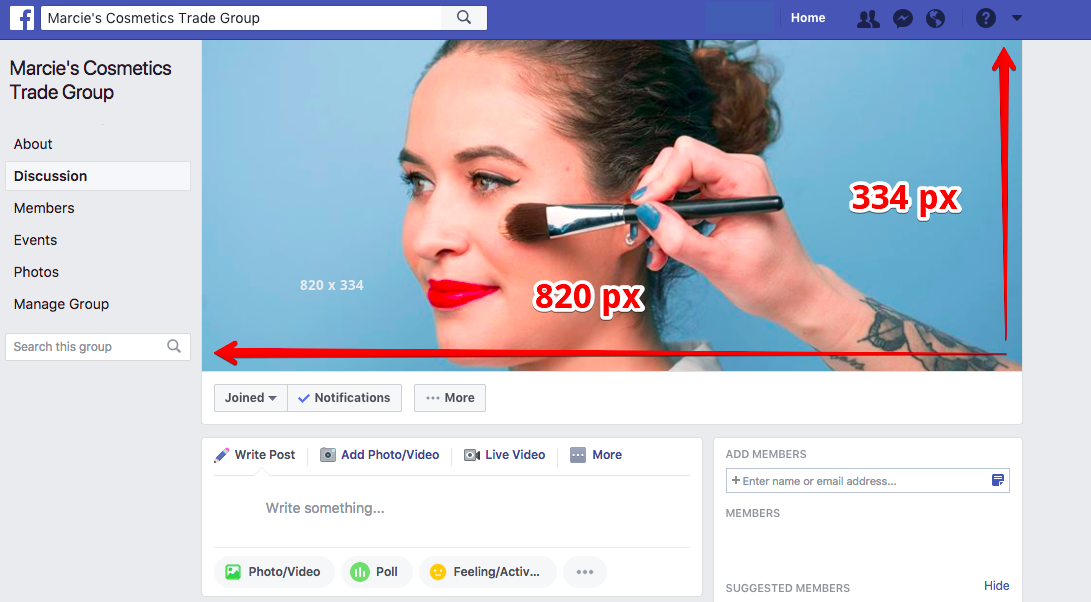 The new size for Facebook group cover photos is 820 pixels x 334 pixels.
If you use the same photo as your business page for your group, ensure it can be cropped to fit the 820 pixels x 334 pixels dimensions as well.
---
Businesses tend to take Facebook cover photos for granted, but given its placement on your Facebook page, it's one of the most important things to think about when it comes to branding on Facebook.
The first thing people will see when they visit your page is your cover photo. If you want to make a good impression on your followers, use your creativity to give users a sneak peak of your page and introduce them to your brand. A good cover photo can be the start of a strong customer-merchant relationship.
Start creating your cover photo
Burst has thousands of hi-res, royalty-free images ready for your Facebook page.
Get first access to free photos and other Burst content. Unsubscribe anytime.
Thanks! We'll be in touch.